Everyone, Do What They Want! (II)
Hi Art, November 2007
Last time we discussed that the Olympic Games have almost demonized us again. A lot of events not related to the Games are distracted due to the year of 2008. This is nothing new to notice. The founder of the Olympics Pierre De Coubertin actually intended to put "art" together within the Games years ago. In 1906, Coubertin held an international congress on the collaboration of art, literature and sports. It was suggested that the International Olympic Committee should organize 5 contests, including architecture, music, sculpture, painting and literature. Later on, the category of painting was split into classical oil painting, watercolor, sketch, practical painting (poster, certificate, postal stamp, seal/ chop), woodblock and etching etc. Literature was also separated into poetry, drama, prose (novel, mythology and fantasy); the music game was divided into orchestra, musical instruments and singing. The result for all these was that it was impossible to really evaluate a competition score, or even to set instructions and rules. The operation of the Games was basically full of obstacles and the actual competition was absurd. Gold, silver and bronze metals were unable to be awarded. Yet, there was a long poem called "Ode to Sport" written by Georges Hohrod and Martin Eschbach, which won the Golden award for Literature. However, nobody knew who the writers were until 7 years later-- Coubertin finally disclosed that Hohrod and Martin Eschbach were actually his pseudonym. Royal Swedish Academy of Arts even claimed, "From the perspective of art, these competitions are meaningless." At the end, the Art Olympics marked a closure due to the lack of interest from both artists and organizers. Art competition gradually transformed into an art festival held during the period of the Olympics. And now, most people put their focus on the Opening and Closing Ceremony more than the actual games.
The Opening Ceremony is in fact a revelation of a country's ability and strength. Firstly, one has to ensure that there would be no electric power cut within an hour or two; the coliseum must be able to withstand millions of people cheering and stomping without collapsing; evacuation is possible during emergency. Secondly, as performance is supposed to be seen instantly, both performers and audience should come for an exchange, but not for a torture. The worst thing to happen is for a show to become a presentation with millions of people only performing for one or only up to ten political figures, like an "Arirang" in Korea. Furthermore, the performance in the Opening Ceremony is even a demonstration of cultures in the host country. Within the short 1.5 hours, an enormous atmosphere is created. And the whole world can immediately witness whether the environment is filled with superficiality, rashness, anxiety, or steadiness, confidence, subtlety and elegance. If the show is ruined, it will take years to remedy the negative reputation.
In the past Opening ceremonies, I think the Sydney Olympics has done the best. The theme song—Hero Lives Forever is solemn, firm and elegant, like the silence at the night before a battle, contrasting with the following exciting contests, bringing a sense of rhythm that stimulates one's anticipation. However, the well regarded Hand in Hand, theme song from the Seoul Olympics is like Asian Spirit, destroying the uplifting mood. Its lyrics: "Hello you, hello me, hello everyone; you are strong, but I am not weak; it is not easy to be together" sound like the end of the world. Here, it reminds me of an old military proverb: "The first drum encourages the troop, second discourages it and third spoils it" which describes the key of going to a war. And let us not forget that the Olympic Games are a sport competition, not an extravagant Chinese New Year show, nor the fancy Japanese "Red/ White" Singing Competition! One really ought to be serious for the long run right from the beginning.
The mistake that Coubertin has made was to merge the two unrelated events: sports and art together. Sport contest is about how human beings challenge the extreme physicality and compare/ compete among a crowd. Under a set of rules, the competitions get fiercer and the results are pushed to be better. But art is about the combination of human thoughts and consciousness, which sometimes can be invisible and untouchable. Eating hamburger and hand-standing may one day become part of the Olympic Games, but mankind's momentary thought and consciousness can never be compared. Coubertin once said in 1915: "In the past 20 years or so, I have been promoting sport, history and culture. You all have responded to the physical culture and received the benefit out of it. But you have not answered my calling for history and cultures. Don't think that I will give up. I will continue until my very last moment." The Art competition has soon ended after his death.
I think we would not make Coubertin's mistake again. But whether the Olympics can be organized more sophistically, but not just about the competition among countries and regions, is still yet to be balanced and compromised. The year of 2008 is in sight and the Olympics are imminent. Everybody is talking about how the Olympics Opening would be and how those big shot directors' behinds are coming up with different versions. I have several friends who work for the Beijing Olympics Opening and have been consuming the lunchboxes there for a year already, but I have yet to hear any exciting concepts from them. Let's just leave it for nature and history to tell us that this is no business for us and current moment. If we want to flaunt our large-scale gymnastics, we cannot do better than Korea, just as if we use "world peace" as a gimmick, we cannot beat the Seoul Olympics. Playing the tricks about the harmony of acrobats and athletics cannot lead us further than Sydney and Athens; in terms of being economical, Los Angeles and Atlantic City have already set excellent examples that are hard to top. So, what do we have left? Perhaps it is about being sober and subtle. These two characteristics are indeed, our tradition and strength but they seem to be the least respectable to us these days.
Zhu Wei
2007.10.1 Tuesday
大家都做想做的(II)
《HI艺术》2007年11月号
上回说到我们差点又把奥运会给妖魔化了,很多和奥运比赛无关的事也都要愣往2008奥运会期间整,其实这也不新鲜,当年奥运会创始人老顾头,就想把艺术也弄到奥运会里比一比。1906年顾拜旦在巴黎召开了艺术、文学与体育协商会议,会议建议国际奥委会组织五项艺术竞赛,即建筑、音乐、雕塑、绘画和文学,后来绘画类又分为古典油画、水彩画、素描、应用绘画(招贴、证书、集邮、图章)以及木版、蚀刻等,文学分为诗歌、戏剧和散文(小说、神话、幻想),音乐比赛为交响乐、器乐、唱歌。结果很多比赛无法量化,规则无法制定,操作起来困难重重,比赛荒诞不经,金、银、铜牌发不出去,有一首长诗题目为《体育颂》,获得文学竞赛金牌,作者是乔治·霍雷德和埃什巴赫两人,当时谁也不认识这两个作者,直到7年后顾拜旦才说是自己化名写的。瑞典皇家艺术学院甚至认为:"从艺术的角度来看,这种比赛是毫无意义的。"艺术奥运比赛最终由于艺术家和组织者两方面缺乏兴趣而不得不停止进行。艺术竞赛慢慢转化为在奥林匹克运动会期间举行的艺术节,至今大家把关注点更多注重于开闭幕式的表演。
奥运会开幕式其实是一个国家整体实力的一次大现眼,首先得保证这一两个小时不能停电,上万人欢呼,跺脚,体育场不能塌了,有紧急情况能马上疏散得出去不能都捂里头。其次文艺表演也得时时刻刻想着是人在看,演员和观众大家都能觉得出来对方是人,是来交流来了,不是来活受罪。千万别弄成"阿里郎",几万人翻板就为了一个人或者10个人看。奥运会开幕式演出更是主办国文化的展示,短短一个半小时的演出会形成一个庞大的气场,这个气场是肤浅、鲁莽、急赤白脸,还是稳健、从容、含蓄优雅,全世界都会马上看得到,弄砸了,想挽回面子又得用若干年的时间,还不一定。历届奥运会开幕式,我觉得2000年悉尼奥运会最好,主题歌《圣火》神圣、稳健、优雅,仿佛战争前夜的寂静,与即将开始激烈的运动比赛构成了鲜明的对比,产生了节奏,催人积蓄力量拭目以待。被人一致看好的汉城奥运会主题歌《手拉手》我倒觉得和《亚洲雄风》有一拼,把气给唱泄了,你好,我好,大家好,你强我也不弱,走到一起不容易,有唱完了今晚就不过了的感觉。古人兵法云:一鼓作气,再而衰,三而竭,出征比武就忌讳这口。奥运会是体育比赛,不是春晚,不是红白歌会,千万别忘了,给后面留点。
顾拜旦犯的错误是把体育和艺术这两个不相干的事情愣往一块捆。体育比赛是人类向自身身体极限进行挑战,在相同的人群当中可以进行比较、竞争,在同样的规则下竞争越激烈越出好成绩;而艺术是人类思想和意识的结晶,有的甚至是看不见摸不着的。吃汉堡、拿大顶有朝一日都有可能成为奥运会比赛项目,而人们的瞬间思想、意识是永远不能放在一起进行比赛的。顾拜旦曾经在1915年感慨地说:"20多年来,我一直在提倡体育与历史文化。你们响应了我关于肌体文化的号召,并且获得了益处。你们没有相应我关于历史文化的号召,不要以为俺会放弃,直到生命的最后一刻,俺也将不断重复这一号召。"他死后没多久奥运会艺术比赛就停止了。
老顾头犯的错我想我们不会再犯了,能否把奥运会办成人的奥运会,而不是国家、地区间的较量还有望达成共识。2008年眼瞅着就要来了,奥运会成了当务之急,人们都议论在北京举办的奥运会开幕式该是个什么样,大牌导演争着往里冲,据说有各种版本。我的朋友里有几个也在为开幕式工作,光盒饭已经吃了一年了。从他们嘴里没听出有什么好的构思,还是让星星告诉月亮,让历史告诉未来,没现在什么事,没人什么事。玩大型团体操我们玩不过朝鲜,玩世界和平玩不过汉城奥运会,玩人与竞技的和谐我们玩不过悉尼、雅典,玩节俭实惠我们玩不过洛杉矶、亚特兰大,那么还剩下了什么呢?朴实,含蓄。这是我们这个民族的传统和强项,可又是我们当下最看不上的。
——朱伟
2007.10.1星期二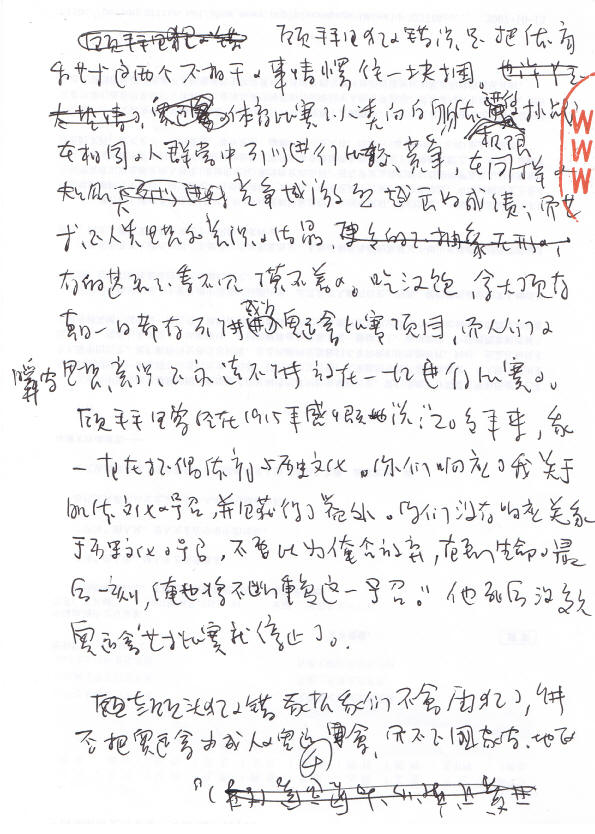 manuscript