Gerhard Richter - Chinese Contemporary Art
Hi Art, June 2008
A section from Guo Degang's stand-up comedy routine talks about a ravenous man and how his thoughts are consumed with eating anything in sight. Someone might actually desire "wrap steamed buns in pancakes with rice" when famished or perhaps have this type of illusion before dying of starvation. Extreme situations call for extreme measures and everyday objects may begin to look like pancakes, rice and/or steamed buns. Anything but food seems like a bunch of baloney when one is starved. If you try to expound on perseverance and ideals you might just get bitten presuming one has any energy left in them.
Like craving nourishment, Chinese artists were desperate for a release when Gerhard Richter's paintings came to China.
Fifty-six of Gerhard Richter's original works dating from 1963 are on exhibit at the National Art Museum of China from May 15 though July 2. The text accompanying the exhibition invitation reads, "Gerhard Richter is one of the most acclaimed, influential and successful contemporary artists in the world. His work investigates abstract and figurative painting, while exploring a skeptical view on art historical issues. His paintings present the reality of contradiction. He manipulates the photographic image through the use of oil painting to create manipulated photographs, which appear out of focus. His work has had a profound impact on Chinese artists and the development of Chinese contemporary art".
This is quite a loaded statement. Thousands of artists in China study and imitate Richter's painting style and techniques. Some of these artists have succeeded in appropriating his style as their own. Richter is responsible for nearly half of Chinese contemporary inspiration. A couple of days ago, I found a book in a pile at Robert Bernell's bookstore Timezone 8. The oil painting on the cover looked like a black and white blurred photograph. From a distance, I thought it was a survey on German Art History, but upon closer inspection I realized it was a book on Chinese Art History of the Twentieth Century. It highlighted the degree of influence Richter's work has had on the history of Chinese oil painting.
Most Chinese artists probably place Richter above Shi Tao, Bada Shanren, Fu Baoshi and Li Keran. The unprecedented imitation of Richter's work and artistic language by the Chinese artists makes the work recognizable to the western eye thus making it easier for the Chinese artists to enter the international stage.
You should know what type of pot you're cooking in and how the food was prepared before eating it or you'll end up with an unexpected flavor. After World War II, we were confronted with the question of how to use ink painting in our shattered homeland while the west was occupied with other things. Surrealist painters like Andre Lubu Lev and Salvatore Dali along with cubist and abstract painters Mondrian, Chagall and Lipchitz headed to America and replaced Paris as the center of the art world. European artists wandered the New York City streets except for Kandinsky due to his age. American contemporary artists like Alexander Calder and Willem De Kooning emerged, followed by the existentialists including Jackson Pollock and Barnett Newman. During the 1950s, there was a revival of formalism and figurative painting among contemporary circles which were cultivated by the Greenberg School. By the end of the 1950s, Joseph Beuys' creativity and The New Realism movement came to the forefront. American Pop was born in the 1960s, with the emergence of international masters like Andy Warhol, James Rosenquist and Roy Lichtenstein. Andy Warhol has had a tremendous influence on the development of Chinese art. Performance art emerged in the 1970s as well as Nam June Paik's video art and Christo and Jeanne-Claude's installation art. Sigmar Polke and Gerhard Richter were among the leaders of the Post Modern movement, which also flourished in the 1970s. Among them, Richter has had the most significant impact on Chinese art. New Expressionism emerged in the United States during the 1980s with artists such as Keith Haring, installation artist Ann Hamilton, and Cindy Sherman whose work is somewhat derived from New Expressionism. A new type of conceptual art emerged during the 1990s with a return to Body Art and a focus on cultural awareness with artists like Mori Mariko and Vanessa Beecroft. It was a time of artistic innovation and the start of the digital video 'shift' technique.
Contemporary art today is trying to enter popular culture. However, we cannot impose our standards let alone apply our viewpoints to contemporary art. Richter's artistic style is unique; his thought process is sharp! His paintings are one of a kind. He did not want to be labeled by others. We can emulate his life: shift from one place to another, get married three times and have a son at the age of 74 but we will never be able to think like him or predict his next move. Perhaps this will be the downfall for the "Richter copycats" of today.
Chinese contemporary art consists of various components, which are weaved together and the nuts and bolts combine influences from the West with Eastern counterparts. Western contemporary art in the 21st century is also moving at a rapid rate and it is impossible to imagine what the next art trend and movement will be. Perhaps this is the burden of Chinese contemporary art.
Zhu Wei
Thursday, May 15, 2008
里希特·中国当代艺术
《HI艺术》2008年6月号
郭德纲相声里有一段子,说人饿急了有很多种想着吃的办法,哪种听着都解气。其中有种吃法听着更瓷实:"烙饼卷馒头就着米饭"。这其实是人饿急了时的真实想法,甚至是饿死前很多人会产生的幻觉。人到了那个时候根本顾不上想那么多,逮啥都想吃,看啥啥都像烙饼。你跟他说别的纯属扯蛋,你要是想和他聊聊理想啊、坚持啊什么的,他要是还有一口气的话一准把你咬死。
里希特的油画传入中国,对当年苦于找不到出口的中国当代艺术来说不亚于烙饼和馒头,而且还是油炸馒头。
五月十五日至七月二日,格哈德·里希特从1963年起创作的56件原作开始在中国美术馆展出。展览预告上写:格哈德·里希特是全世界最知名、最具影响力以及最成功的当代艺术家之一,他的艺术是研究如何在具象和抽象之间反复转换,同时又在多样风格中始终围绕具有艺术史关键问题进行探索和质疑的。他的作品表现出相互矛盾的真实性。他使用和模拟拍坏了的照片(焦点不实)所画的油画,成为中国当代艺术年轻艺术家参照和挪用的经典,他对中国当代艺术和艺术家产生了重要的影响。
说实话这话说得还算是轻的,中国现在有成百上千的艺术家在模仿和学习里希特的画法和风格,有的甚至还取得了成功,里希特一人相当于半个中国当代艺术史。前两天在798罗伯特的书店看到一本跟砖头一样厚的书立在书堆里,远处看封面是一张焦点不实的黑白照片改的油画,以为是德国艺术史,走近一看上写二十世纪中国艺术史,可见里希特的油画在中国的影响力有多大。
里希特在中国艺术家心目中的地位比石涛、八大、以及和他年代相近的傅抱石、李可染恐怕要高得多,用里希特的绘画语言更容易让西方人看得懂,更容易和国际接轨,中国艺术家对他的模仿恐怕也是空前的。
吃了人家的馒头就应该知道别人是用什么样的锅蒸的,烧的是什么样的柴禾,不然蒸不出人家的味儿来。二战结束后,在我们面对国破家亡琢磨水墨画还有什么用的时候,西方人也没闲着:纽约取代了巴黎成为世界艺术的中心,超现实主义画家包括安德烈·布列顿、达利等等集体来到纽约,除了70多岁的康定斯基行动不便之外,立体派、抽象派艺术家蒙德里安、夏加尔和利普希茨也都跑到了美国,纽约到处可见欧洲的艺术家在街上晃荡。随后亚历山大·考尔德、德库宁这样的纯美国风格的当代艺术家的出现,紧跟着以波洛克、巴尼特·纽曼为代表的存在主义画家崭露头角。进入50年代又出现了格林伯格画派、形式主义绘画,以及具象复活等等。50年代后期出现了新现实主义画派,以及为心灵而创作的博伊斯。60年代美国波普艺术诞生,出现了安迪·沃霍、罗森奎斯特、利希滕斯坦这样的世界级大师人物,其中安迪·沃霍对中国的影响最大。70年代出现身体艺术、行为艺术、白南准的电子艺术、克里斯托和珍妮—克劳德的包裹艺术,以及以波尔克、里希特、巴尔德萨利的后现代主义,其中里希特在中国影响巨大。80年代出现了美国新表现主义如基斯·哈林,装置如汉密尔顿,以及辛迪·舍曼的挪用。二十世纪九十年代初相继出现了观念绘画、身体的回归、文化认同、时尚(森万里子、基里米尼克、比克罗夫特)、摇移等各种新的艺术思潮。
如今当代艺术已经在全世界范围内普及流行开来,但是请记住,当代艺术的起点标准并不由我们来制定,甚至不容插嘴。里希特的思想犀利、作风独特、作品变化多端,正像他所说的不希望被人们所界定。也许我们能模仿他从一个地方逃到另一个地方;也许能照着他也结三次婚,努把劲,没准也能像他那样在七十四岁的高龄也生一大胖小子。但是我们无法替他去想甚至不敢揣测下一步里希特会干什么,这也许就是模仿者的悲哀。
中国当代艺术东拼西凑,如今也跟头把式的拼凑齐全,西方那边有的行当我们也一一对应。进入二十一世纪,西方当代艺术也在急速向前发展,下一步会出现什么流行什么我们不敢替他们去想甚至无法猜测。这也许就是中国当代艺术的悲哀。
朱伟
2008年5月15日星期四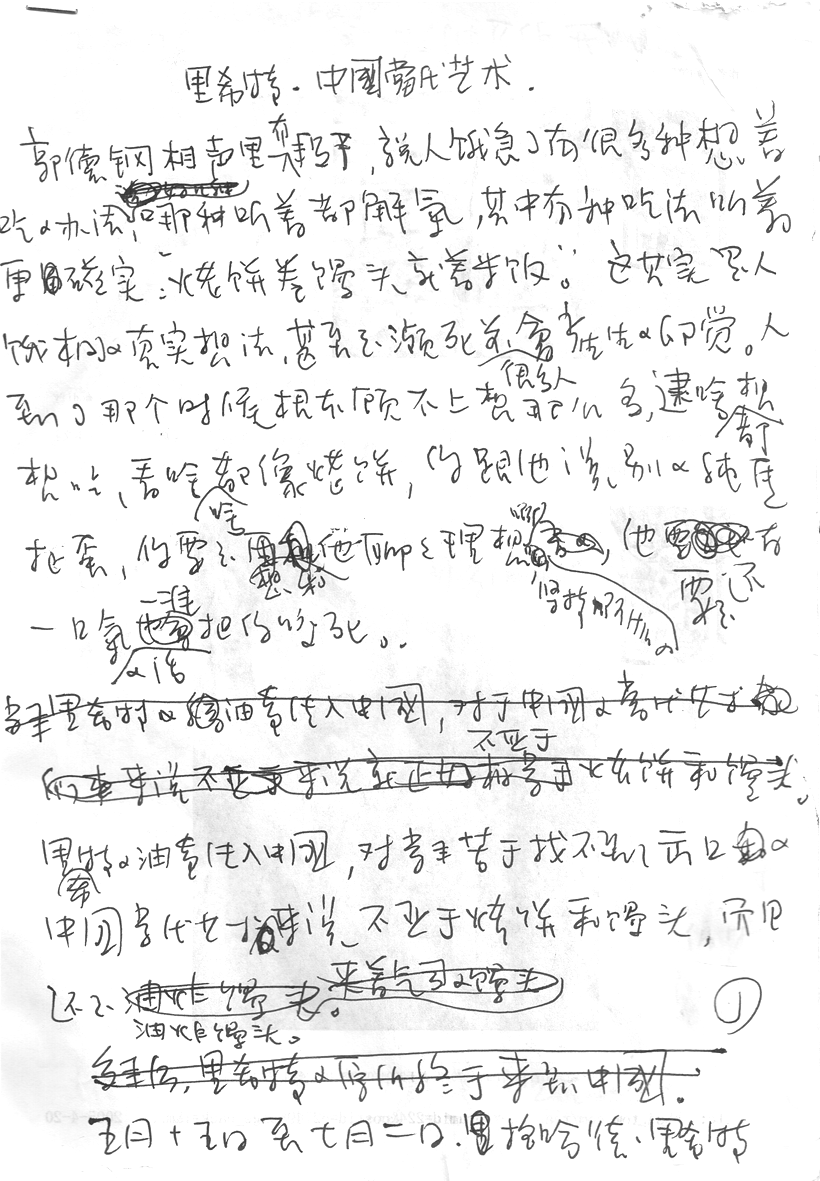 manuscript