Throughout the three hundred and sixty-nine years from the Three Kingdoms to the founding of the Sui Dynasty, China had been trapped in the long term dreadful conflicts, while the country split apart by war and dynasties frequently changed, as well as an active period which is rare in Chinese history. In the Chinese art history, painting of the Three Kingdoms, Western Jin and Eastern Jin, Northern and Southern Dynasties (six dynasties) occupies a very important place. A number of literati and scholar-bureaucrat joined the art circle, and before that, paintings were mainly drawn by nameless craftsmen. Literati painters brought new trends and expanded the field of painting, as when paintings drew materials directly from literary works. New artistic techniques made paintings more complicated, more vivid, more accurate in modeling. Some outstanding painters in this period have become the first painters who stamped their names on the page of Chinese art history.
Cao Buxing was a well-known painter during the Three Kingdoms period and the first Buddha painter ever being documented in China. The wrinkled drapery he painted was clinging to the human body as if they just came out of water, so people called his style as "Cao Yi Chu Shui" (Cao's cloth coming out of water). Wei Xie was a skillful painter in the Western Jin Dynasty. He changed the simple techniques and had a historical significance in artistic technique reform.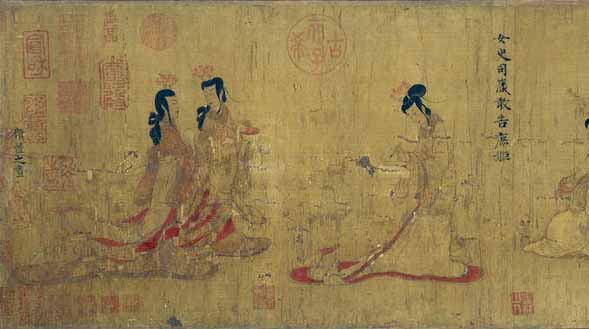 The "Three standouts in six dynasties" were representative artists of this period. They were Gu Kaizhi, Lu Tanwei, and Zhang Sengyao. Art critic Zhang Huaichang evaluated The Three's figure painting in his "Hua Duan" (Comments On Painting), "Zhang Sengyao paints the flesh, Lu Tanwei paints the bone, and Gu Kaizhi paints the soul." Gu Kaizhi was listed as the top of the three standouts here, however, since none of their paintings survives today, we cannot verify Zhang's conclusion fairly. Gu Kaizhi, from the East Jin Dynasty, was adept in literature, versed in poem writing, excellent in painting.
From the Tang Dynasty imitated copy "A Roll of the Five Stars and Twenty-Eight Constellations in the Celestials" we can see that Zhang's painting is indeed more sensual than Gu's with a apparently exotic style.At the beginning of this period, as in the Han Dynasty, the warning and education function of painting was still emphasized, whose purpose was basically to serve for politics. Buddhist and Taoist figure and characters from myths and literary works became the main subject, while landscapes could only appear as the background and was required to "figure must be bigger than mountain, and water must not make waves". During Liu Song Dynasty, the representative painter Wang Wei and Zong Bing started to develop landscapes into an independent genre of painting. Landscape painting does not have propagandistic and educational function, but usually to express oneself and amuse oneself; it would bring more space and freedom of expression to the later painters.
三国两晋南北朝
从三国鼎立开始至隋王朝建国为止,在这三百六十九年的时间里,中国长期战乱,国土长期分裂,朝代频频更迭,然而,这段时间也是中国历史上一个少有的思想活跃的时期,此间的绘画在中国绘画史上占据着一个非常重要的地位。三国两晋南北朝时期一大批出身于士大夫阶层的精英开始步入画坛,而在此以前,绘画主要由无名画工承担。文人士大夫画家给画坛带来了新风气,他们扩大了绘画的表现领域,如直接取材于文学作品的绘画,他们也展现出新的绘画技巧,由简入繁,造型准确,注重传神。这个时期一些画家成就非常杰出,成为中国绘画青史留名的第一批画家。
三国时的曹不兴是文献记载中知名最早的佛像画家,他画的人物衣纹皴绉紧贴于身,仿佛刚从水里出来一样,所以人们称之为"曹衣出水"。西晋时的卫协绘画技巧精湛,一改古时简略的作风,是在技巧上具有划时代意义的一位画家。
顾恺之、陆探微和张僧繇被称为"六朝三杰",他们是这一时期的代表画家。张怀鲳在《画断》中评论三杰画的人物,认为张僧繇得其肉,陆探微得其骨,顾恺之得其神,把顾置于三杰之首。由于作品缺失,我们无法对这个论断进行验证。顾恺之,东晋人,精通文学、诗赋、绘画,尤擅绘画,有画绝、文绝和痴绝的"三绝"之名。他的人物画注重传神,谢安赞之"有苍生来所无"。现存顾恺之的作品有隋唐、宋人的摹本《女史箴图》、《洛神赋图》和《列女仁智图》,这些摹本体现了顾恺之所代表的以形传神的时代精神。陆探微,南朝宋齐间人,擅长画人物肖像,其用笔有连绵不断的特点,被称为"一笔画"。陆探微没有作品传世,据张怀鯧称其作品风格是"秀骨清像",谢赫则称其为"尽该六法"第一人。张僧繇,南朝梁时人,以善画佛道著称。六朝时佛教和佛教艺术从印度传入中国,张僧繇受外国绘画技法的影响,能用天竺凹凸法画出具有立体感的物像,所画佛像面短而艳,自成一家,人称"张家样"。他的画风与顾恺之、陆探微的"密体"相辉映,史称其为"疏体"画派。从唐代摹本《五星二十八宿神形图》中可看出他的作品确实比顾的更富肉感,有明显的异域风貌。
这一时期早期的绘画仍沿袭两汉,强调绘画的"鉴戒"功能,即以为政教服务为主。释道教人物,神话、文学作品中的人物成为绘画的主要对象,山水画只作为人物画的映衬而出现,画中常常"人大于山,水不容泛"。南朝刘宋时,以画家王微、宗炳为代表,出现了独立的山水画画科。山水画不具有宣教功能,其目的往往只为畅神和自娱,它的产生为后世画家提供了更多的自在空间和表达自由。