APOLLO 2006 Nov.
6,000 years of Asia's art
To mark the 40th anniversary of the Asian Art Museum of San Francisco, its curators present a selection of recent acquisitions by the museum, one of the world's greatest and most diverse collections of the continent's art. They range in time from remote antiquity to work by cutting-edge contemporary artists.
Since 2003, when the Asian Art Museum opened in its new facility, the transformed 1916 main public library building in San Francisco's Civic Center, more than 2,600 works of art have been added to the collection. These additions span 6,000 years of history and represent the diverse cultures of many Asian countries. They range from gilt-bronze Mongolian Buddhist sculptures to Indonesian ritual implements to contemporary Japanese baskets, and from 16th-century Korean ink paintings to colonial-period photographs from India to modern Philippine oil paintings.
Among the important groups of art works recently donated are 148 Chinese calligraphies, paintings and seals, from the 7th century to the present, gifts of the Yeh Family. The museum's collection of Chinese calligraphy, that most challenging and rewarding art form, had been small. The Lloyd Cotsen Japanese Bamboo Basket Collection consists of 895 objects. These comprise bamboo sculptures by contemporary artists as well as baskets by artists of the 19th and 20th centuries. More than 700 paintings, drawings, prints, photographs, and other objects relating to South Asia have been given from the collection of William K. Ehrenfeld, MD. Although the museum's collection of South Asian art was quite strong, it largely lacked materials from the colonial period. The Ehrenfeld donation substantially fills the gap, adding not only paintings by British artists such as William Simpson and George Landseer but also hundreds of 19th-century photographs by both Indian and European photographers.
Other major gifts include 120 Japanese prints of the 18th and 19th centuries, by artists such as Sharaku, Harunobu and Kiyonaga, donated from the Grabhorn Ukiyo-e Collection; 25 major Korean sculptures, paintings and textiles acquired with funds from the Koret Foundation and the Korean Art and Culture Committee; and more than 300 modern and contemporary works in both the mediums and styles of the international avant-garde and in traditional mediums and neotraditional (or subverted neotraditional) styles. Highlights of the acquisitions discussed here are on view in the exhibition 'Sights Unseen', which continues at the Asian Art Museum until 25 March 2007.
Lily Garden, No. 15, by Zhu Wei (b. 1966), 1999. Ink and colours on paper, 223 x 110 cm. Gift of the Yiqingzhai Collection, 2004.25
Zhu Wei's paintings record events of China's past and present in a form similar to a personal diary layered with idiosyncratic touches. His mixture of a traditional Chinese garden setting and sophisticated composition techniques gives a sense of peering into a hidden, enchanted world. This large work is made of a thick, fibrous paper, which the artist textured by setting on an incised stone plate before he applied colour. He adjusted the textures according to the mood he wished to convey, lending the painting the look of aged silk. Zhu Wei received informal training in art as a child. In 1982 he joined the People's Liberation Army and graduated from the Art College of the People's Liberation Army in 1989. He left the army in 1992 and established his own studio in Beijing, where he currently resides.
Women dressing their hair by Kitagawa Utamaro (1754-1806), 1790s Oban, colour woodblock print, 38.1 x 25.4 cm. Signature: Utamaro hitsu, publisher: Uemura Yohei. Gift of the Grabhorn Ukiyo-e Collection, 2005.100.74
In this print two women are depicted totally preoccupied in dressing their hair. The print shows a complex and most original design with the two figures positioned against the plain yellow background. Their engrossed attitude is intensified by the opposing directions their figures bend. Utamaro's work is an indication of the changing lives of people, especially women, in the second half of the 18th century in Japan. For example, everyone was fascinated by the new glass mirrors that showed their faces so clearly; before then, the Japanese used only dim bronze. Ukiyo-e print artists discovered that they could create interesting compositions by depicting their women looking into mirrors, because their faces could be multiplied by reflections.
Ceremonial vessel in the shape of a phoenix. Chinese, Ming dynasty (1368-1644). Bronze with silver inlay, gilded copper inlay and painted lacquer, 29.5 x 21.6 x 11.4 cm. Museum purchase, 2003.11
This vessel presents issues typical of the study of later Chinese bronzes. Technical factors, such as the use of lacquer to simulate patina, indicate that it was created during the Ming dynasty. However, the piece is copied from an illustration in the woodblock-printed catalogue of ancient bronzes collected by the Song dynasty emperor Huizong (reigned 1101-1125). The illustration this piece is based on is identified as having been created during the Western Zhou dynasty (approx. 1050-771 BC). Although the inlaid motifs of curls, birds, and mythical creatures covering the surface of this vessel are indeed similar to those of Western Zhou examples, neither the inlay technique nor this vessel's shape existed during the Western Zhou. The vessel illustrated in the Song catalogue was no doubt fabricated during Huizong's lifetime. In short, this piece was modelled on a more than 500-year-old woodblock illustration of a fabrication of what was thought to have been a 3,000-year-old vessel.
Scripture of the Hidden Talisman (Yinfu jing) in standard script (kaishu) by Chu Suiliang (596-658). Album, ink on paper, 25.4 x 34.9 cm. The Yeh Family Collection, f2002.49.1
Calligraphies have long been among the art works most sought after by members of China's educated elite. Criteria used in determining the relative value of a piece included the quality of the calligraphy, the content of the piece, its age, the fame of the artist and the importance of the collections to which the piece had belonged. This version of the Taoist text Yinfu Jing bears the characters for the signature of a famous 7th-century calligrapher, along with colophons, the earliest of which is dated 916; together these elements reveal a fascinating history of being collected at the highest level. Yinfu jing can be translated as 'Scripture of the Hidden Talisman'. Said to be a revelation from the Yellow Emperor, it begins to appear in textual references in the late 500s. It presents a view of the grand cosmic order, in very obscure language. This version consists of 461 characters arranged in 96 columns on 24 leaves.
A gathering of scholar-officials. Korea, Joseon dynasty (1392-1910), 1576. Hanging scroll, ink and colours on silk, 86 x 79.4 cm (image). Acquisition made possible by Koret Foundation funds with additional funding from the Connoisseurs' Council, the Moon Art Foundation, and an anonymous donor, 2005.74
Gatherings of elderly scholar-officials were a traditional subject of commemorative paintings (gyehoe-do) in Korea. Like group photographs, multiples of this kind of painting were produced by the court painters and distributed to the participants, who would keep the paintings as honoured memorabilia. Gyehoe-do paintings consist of three parts: the title of the specific gathering in seal script on top, a depiction of the gathering in the middle, and at the bottom a list of participants. (The bottom section of this particular painting has been lost.) Conforming to the style of 16th-century gyehoe-do paintings, this work presents figures of scholar-officials and entertainers on a hill; the figures are rendered very small, with the landscape dominating the composition. This painting is significant in two ways. First, it is dated 1576; few paintings survived the 1592 Japanese invasion. Second, it has an unusually detailed rendering of palatial buildings, showing three entrance gates and two archery grounds, as well as a landscape in the style of the great 15th-century court painter An Gyeon.
Heirloom textile. India, Gujarat state, c. 1325-1405. Cotton, 94 x 431.8 cm. Museum purchase with exchange funds from the gifts of Avery Brundage, Ed Nagel, Mr and Mrs John Bunker, Elizabeth Fullerton Crocker and various other donors, 2004.81
This heirloom textile, with a repeated design of a woman and her attendants, was produced in Gujarat for the Indonesian market. It was collected in the Toraja region of Sulawesi, one of the Sunda islands of the Indonesian archipelago. Precious textiles from south Asia were exchanged for rare spices, and other forest and sea products along the centuries-old trade routes of southeast Asia. The cloth is block printed and resist-and-mordant dyed on hand-spun cotton. The design, repeated over two registers, depicts an elaborately dressed woman with a parrot, accompanied by attendants. Above the figures are parasols and geese. The subject as well as the drawing style relate to the Jain painting tradition of western India. Remarkably, this piece has been carbon-dated to the 14th century, establishing that it is older than textiles of a similar type found in India.
Nandishvara and Mahakala. Indonesia (central Java), 700-900. Andesite, 78.7 x 30.5 x 20.3 cm. Acquisition made possible by Joan and M. Glenn Vinson, Jr., and Richard and Kim Beleson; with additional funding from Forrest Mortimer, Hok Pui and Sally Yu Leung, Jean and Lindsay MacDermid, and Robert L. Speer; and with exchange funds from the gifts of Avery Brundage, Ed Nagel, Mr and Mrs John Bunker and Elizabeth Fullerton Crocker, 2004.30.1-2
These two door guardians (dvarapala) most likely date from the 8th or 9th century, when small square and cruciform temples were constructed, often on scenic hilltops, around the volcanic plains of central Java. Guardians would have been placed in niches on either side of the door to the temple, protecting the entrance to the sanctuary of the god Shiva. The more benevolent Nandishvara is seen here on the left, standing in front of a trident and holding a small flower in his right hand, while the fiercer Mahakala leans on a large club with his wild hair flaring behind his head. Early central Javanese sculptures with established provenances are extremely rare; it is rarer still to see a matched pair of statues in such good condition.
The Shimmering of Heated Air (Kagero-) by Sho-no Sho-unsai (1904-74), 1969. Bamboo, rattan, and metal, 34.9 x 35.6 cm. Lloyd Cotsen Japanese Bamboo Basket Collection. 2006.3.836
Although seemingly reminiscent of the constructivist sculptures of Naum Gabo or Antoine Pevsner, this work was made independently by a Japanese artist working in Oita Prefecture on the southern Japanese island of Kyushu. Unlike its European counterparts, the sculpture eschews industrial materials (with the unusual and rather daring exception of metal feet) and instead relies entirely on native madake bamboo and split rattan - highly demanding mediums that require decades to master. The Shimmering of Heated Air (Kagero), considered one of the great masterpieces of 20th-century bamboo art, was made by Sho-no Sho-unsai, the first bamboo artist to be designated a Living National Treasure by the Japanese government. This work is part of the Lloyd Cotsen Japanese Bamboo Basket Collection, a group of nearly 900 works donated to the Asian Art Museum in 2006, which has thus become the largest public collection of Japanese bamboo art in the world.
Maitreya, the Buddha of the future. Mongolia, 18th century. Gilded bronze, cold gold and semiprecious stones, 86.4 x 33 x 17.8 cm. Gift of the Connoisseurs' Council and museum purchase, 2004.19
The harbinger of a new age, Maitreya awaits his final rebirth as a Buddha in Tushita, his 'Heaven of Joy'. Maitreya is among the most important deities in Mongolia, where Buddhists follow the Gelugpa Order of Tibetan Buddhism. His images are brought out in the Maitreya Festival, held annually on the New Year, during which it is believed he will bring a bright future to Mongolians. Here Maitreya's raised right hand holds the stem of a lotus that carries a wheel, the symbol of the Buddha's doctrine. The lotus in his left hand supports a sacred vessel whose water washes away defilement and bestows immortality.
Manuscript with scenes of combat from the Ramayana, central Thailand, c. 1800-25. Pigments and gilding on paper, 22.2 x 49.5 cm. Gift from Doris Duke Charitable Foundation's Southeast Asian Art Collection, 2006.27.9
The epic Ramayana, composed in India more than 2,000 years ago, was known in southeast Asia from early times, and continues to be popular. Its origin in a Hindu context has not prevented it from being revered by people of other religions in both south and southeast Asia; Buddhist kings of Thailand have often included 'Rama', the name of the virtuous royal hero of the epic, in their names. In the 19th century, carved or painted episodes from the Rammakien, the Thai version of the Ramayana, frequently decorated temple walls, manuscript cabinets and even silver vessels. The epic also provided many stories for courtly dance-dramas. This manuscript, of illustrations without text, shows groups of heroic and demonic figures in hand-to-hand combat. Their costumes, postures and gestures strongly resemble those of dance-drama performers. A closely related manuscript in the Thai royal collection is now kept at the National Library, Bangkok.
The Hero Rustam Kills the White Demon, from a manuscript of the Shahnama (Book of Kings). Iran, perhaps Shiraz, c. 1580. Colours on paper, 25.1 x 20.6 cm. From the Collection of William K. Ehrenfeld, md. 2005.64.162
Rustam, identified here by a tiger skin coat and a helmet in the form of a tiger's head, is a great hero in the Shahnama, the national epic of Iran. In its text Rustam is said to possess great strength, be protected by magic, and symbolise Persian honour and virtue. This book, composed by the poet Ferdowsi around 1000, tells the history of ancient Persia from the creation of the world until the country's conversion to Islam in the 600s. Because of its literary importance, the Shahnama has been illustrated many times throughout Persian history.
Personal Space by Jayashree Chakravarty (b. 1956), 2001. Mixed media on paper, 247.0 x 975.4 cm. Acquisition made possible by Jay and Marshalla Yadav. f2003.5
Chakravarty has created a dreamlike rendition of inner space that is part quaint countryside and part urban chaos. Made of layers of patches and strips of paper pasted together to form a large scroll, the work simultaneously inhabits realms of painting and sculpture. In keeping with its subject, pathways and navigation, the double-sided composition is suspended and curled into a three-dimensional work in such a way that viewers can either walk around or thread their way through it. Attempting to navigate the landscape, viewers encounter streets that flow like rivers through sets of houses and mountains, at times circling into oblivion. Using street signs with names such as 'Self Esteem' and 'Continuity Road' - with the mapped streets leading in ambiguous directions - Chakravarty charts a course of alienation and confusion typical of modern existence.
This article was prepared by present and former members of the curatorial staff of the Asian Art Museum. Korean art: Kumja Paik Kim and Sung Lim Kim; Japanese art: Yoko Woodson and Melissa Rinne; Chinese art: Michael Knight, Li He and Pauline Yao; Himalayan art: Terese Bartholomew; South and Southeast Asian art: Forrest McGill, Natasha Reichle and Bindu Gude. The photography is by Kaz Tsuruta.
《APOLLO》2006年11月刊
6000年来的亚洲艺术
为纪念旧金山亚洲艺术博物馆成立40周年,博物馆策展人精选了一系列近期馆藏艺术品向公众展示。亚洲艺术博物馆是亚洲这片大陆的艺术的集大成者,其收藏广博而丰富,从远古经典到当代前沿,均有所涵盖。
2003年,亚洲艺术博物馆开放了新的馆区,亦即原1916年兴建的旧金山市府的图书馆。新馆的馆藏增添了超过2600件作品,这些作品的创作年代跨越了6000年,它们也代表着亚洲各个国家文化上的不同面貌。从蒙古佛教徒的镀金铜器,到印度尼西亚的法器,再到日本当代的编织艺术品,从韩国十六世纪的水墨作品,到印度殖民地时期的摄影,再到当代菲律宾油画。
在这些重要的艺术作品当中,有最近博物馆收到的148件自公元7世纪以来的中国书法、绘画以及印章,它们是叶(音译)家族对博物馆的慷慨馈赠。中国书法是一种极具挑战性的、也能令人受益良多的艺术形式,这些赠品改变了过去亚洲艺术博物馆对中国书法的藏品规模有限的困境。劳依德·柯特森收藏的日本竹编织藏品包括895件,这些竹制雕塑由19世纪和20世纪的艺术家创作。威廉·埃伦费尔德常务董事提供了超过700件来自南亚的绘画、素描、版画、摄影及其它媒材的作品。博物馆原本在南亚艺术品收藏上已有强有力的优势,但在殖民时期上仍有缺漏,埃伦费尔德的捐赠填补了这一遗憾,它们不仅为藏品名单加入英国艺术家威廉·辛普森和乔治·兰西尔的名字,也增添了数百件印度和欧洲摄影家十九世纪摄制的作品。
主要馈赠还有120件日本18和19世纪的版画,创作者包括东斋写乐、铃木春信、鸟居春长等,它们均由葛雷朋浮世绘收藏会所捐赠;来自韩国柯罗特基金会以及韩国艺术文化委员会的25件韩国雕塑、绘画和纺织品;以及300余件现当代艺术品,这些现当代艺术品均展现了国际前卫性、传统媒材、和颠覆传统的风格。亚洲艺术博物馆展览《看不见的风景》将持续到2007年3月,下面介绍几件将展出的代表性作品。
《太上感应十五号》,朱伟(1966-)创作,1999,水墨,223 x 110厘米。怡情斋,编号2004.25。
朱伟的绘画记录了中国过去和现在的事,他的画有如日记,并且笔触极具个人特色。在此幅作品中,他将中国的传统园林融合于巧妙的构图方式中,令人产生一种窥视感,似乎我们正在偷偷观看一个隐藏着的魔法世界。这件大幅作品绘作于厚重的宣纸之上,在上色之前,艺术家以格状石板处理过纸张,使纸张产生一种特殊的质地。根据所想表达的情绪,艺术家会让纸张呈现出不同的质地,使整幅作品看上去如若年代久远的古时绢画。朱伟年幼学画,1982年参军,89年从中国解放军艺术学院毕业,92年退伍。他现居北京,在北京建立了朱伟工作室。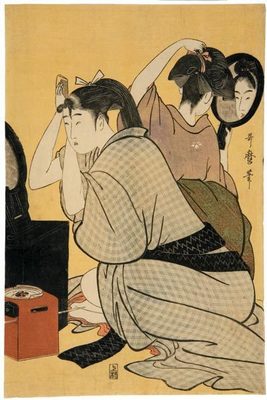 《仕女梳妆图》,北川歌摩(1754-1806),1790年左右创作,彩色木版画,38.1 x 25.4厘米,签名"歌摩笔",出版人Uemura Yohei。葛雷朋浮世绘收藏会捐赠,编号2005.100.74。
这件版画中,两位女性正专注于梳理她们的长发。版画展示了一种复杂且创新的构图,两位女性面朝相反方向,背景是平涂的黄色。经由她们向各自方向弯曲的身姿,两人聚精会神的状态更加有所强调。18世纪下半叶是日本的转变期,北川歌摩是时代变化的捕捉者,并且尤其善于表现女性。时代转变体现在细节上,比如,一面能清晰反映人们面容的镜子,过去日本人只能使用磨平的铜镜,而那个时代已经逝去。浮世绘艺术家发现他们能表现女性照镜时的有趣构图,因为她们的脸出现在镜子的另一侧。
凤形礼器,中国明代(1368-1644),铜银合金镀金彩绘漆,29.5 x 21.6 x 11.4厘米。博物馆自购,编号2003.11。
这件作品代表中国铜器的晚期风格。技术层面上,例如模拟铜锈绿的漆,说明它制作于明代。这是一件摹品,据说原作制作于西周(约公元前1050-771),宋代皇帝宋徽宗收藏的一部木版画图册中绘制了这件铜器,后人根据这本画册制作出这件作品。其实宋徽宗画册中刊载的这件号称西周器物的东西,尽管这件器物表面的纹饰如卷纹、鸟、神话动物接近西周的风格,然而其本身的镶嵌技术和形状在西周时并没有产生,所以说,宋徽宗图册上的这件作品亦是赝品。简而言之,这件器物创作时是根据500年前的一本画册,而画册上的作品号称做于3000年,实际上却是一个赝品。
褚遂良(596-658)所抄《阴符经》楷书,水墨册页,25.4 x 34.9厘米。叶家族捐赠,编号f2002.49.1。
书法一直是中国古代文人所追寻的艺术形式。评价一幅书法的价值标准包括书法的质量、所书的内容、年代、书者名气、以及经过哪位藏家之手。道教典籍《阴符经》的这个馆藏版本有着7世纪时一位著名书法家的签名,并有收藏家题款,最早的藏家题款年代为916年,所有的题款都说明了这件作品的光辉历史。《阴符经》被译为"圣经隐藏的护身符",据说是黄帝所写,文首注明了6世纪末参考的文本。这本书内容是宇宙隐藏的秩序,行文十分晦涩难懂。这个版本包括461个字,96列,24页。
《文官相聚图》,朝鲜,朝鲜王朝(1392-1910),1576年作,卷轴,水墨绢本,86 x 79.4厘米(图画部分)。柯罗特基金会、月亮艺术基金会的鉴赏家委员会、以及某匿名捐赠者的慷慨捐赠。编号2005.74。
就像照集体照一样,为年高文官的相聚作纪念图是朝鲜的一个传统。宫廷画家将相聚的情形画下若干张,再分发给参与聚会的每一个人,这幅画就成为了聚会的纪念品。纪念图包括三部分:聚会的名称(以印章印于卷首)、聚会的描述(写于卷中)、聚会参与者名单(注于卷末)。此幅图的末尾名单已散佚。与16世纪纪念图范式一致,这幅作品表现了文官们和俳优们相聚山中的情景,人物很小,而山占据了画面的大部分。这件作品了在两个方面比较突出:首先,它落款的创作年代是1576年,而在1592年日本入侵以后,鲜有类似的作品留存;第二,画面上点缀着通常此类纪念图中不会出现的宫殿式建筑,这座建筑三个入口,两个射箭练习场,这与15世纪著名的宫廷画家安坚所绘的山水画风格有接近之处。
家传织物,印度,古吉拉特邦,1325-1405,棉,94 x 431.8厘米。在布伦·戴奇、爱德·纳戈尔、约翰·邦克夫妇、伊丽莎白·富勒顿等数位捐赠者的外汇基金资助下,博物馆的自购品。编号2004.8.1。
这件家传织物上有一位女性及其随从的图案,是古吉拉特邦为印度尼西亚的市场制作,由苏拉威西岛(印尼群岛桑达岛屿中的一座)的托拉雅地区所藏。在过去,珍贵的南亚织物常被用来交换从东南亚古老商道上而来的珍稀香料、林产品和海产品。布料用媒染法,以版块雕刻印制于手纺棉上,图案重复两种花纹,一个穿着华丽的女性、一只鹦鹉、以及众随从,人物之上是许多阳伞和鹅群。绘画的主题和风格都符合西印度的耆那教传统。引人注目的是,这件作品用碳笔标明制作时间为14世纪,也就是说,远远早于风格近似的其它织物。
《欢喜天和摩诃迦罗》,印度尼西亚(爪哇中部),700-900,安山岩,78.7 x 30.5 x 20.3厘米。在格伦文森夫妇、贝勒森夫妇的资助下,购买此件作品成为可能,其它资金资助来源有福雷斯特·莫蒂默、梁氏夫妇、麦德美夫妇、罗伯特·斯佩尔,以及埃弗里·布伦戴奇、埃德·纳戈尔、邦克夫妇、伊丽莎白·富勒顿的外汇基金。编号2004.30.1-2。
这两个镇门石雕大约制作于公元8世纪到9世纪之间,当时印尼人的小广场或寺庙一般建造在山顶,山的四周环绕着爪哇的火山平原。在寺庙入口两侧的壁龛里会分别放入一尊镇门石雕,以保证寺庙的入口能得到湿婆神的庇佑。这两尊石雕,位于左侧的欢喜天右手拈花,立于三叉戟前,位于右侧的摩诃迦罗靠在檀香木上,怒发冲冠,欢喜天显得越仁慈,摩诃迦罗就显得越凶恶。能找到确切发祥地的早期爪哇雕塑非常罕有,这样凑齐一对并且状况良好的就更为罕有了。
《发光的热气(阳炎)》,生野祥云斋(1904-74),1969。竹、藤、金属制品,34.9 x 35.6厘米。劳依德·柯特森的日本竹篮藏品。编号2006.3.836。
尽管看似构成主义雕塑家瑙姆·加博或安托万·佩夫斯纳的创作,这件作品其实是南日本九州岛大分县的一位艺术家独立完成的。和欧洲同行们不同,这位艺术家极力避免作品中的工业感(只有金属底座例外),取而代之的是日本特产的苦竹和藤条——这种材料非常考验手艺,需要数十年的修炼才能掌握。《发光的热气(阳炎)》是20世纪竹制艺术品中的杰作,创作者为生野祥云斋,他也是日本政府授予的第一位"在世国宝"级竹艺术家。该作是劳依德·柯特森2006年捐赠给亚洲艺术博物馆的近900件日本竹篮藏品之一,自那以后,亚洲艺术博物馆成为世界上最大的同类藏品公共收藏机构。
《弥勒 未来的佛佗》,18世纪,镏金铜、冷金、半宝石,86.4 x 33 x 17.8厘米。鉴赏家委员会馈赠,部分为博物馆购买,2004.19。
作为新时代的预兆,弥勒在兜率天等待他最终的成佛,亦即他的"天堂的喜悦"。蒙古佛教执行的是藏传佛教中格鲁派(黄派)的戒律,而弥勒是蒙古佛教诸神中相当重要的一位。每年新年期间的弥勒节中,他的形象四处可见,因为蒙古人相信弥勒能给他们带来一个光明的未来。此件作品中,弥勒右手的莲花上有一轮,那是佛陀戒律的象征,他左手的莲花上有一圣瓶,瓶中圣水能永久洗去尘世的污垢。
《罗摩衍那》手稿,附战争绘图,泰国中部,公元1800-25,纸本设色洒金,22.2 x 49.5厘米。多丽丝公爵慈善基金会东南亚艺术收藏部捐赠,编号2006.27.9。
史诗《罗摩衍那》创作于2000年多年前的印度,其影响很早以前就波及东南亚。它起源于印度教的背景并没有成为人们接受它的阻碍,在东南亚和南亚的不同地区,人们都深深喜爱这部作品。比如,史诗中有一位品行端正的贵族英雄叫做"喇嘛",于是"喇嘛"这个名字便经常在泰国的佛教徒国王们姓名中出现。在19世纪,包括了部分拉玛坚神话的泰版《罗摩衍那》经常出现在寺庙的装饰墙、书柜、甚至银花瓶上,这部史诗也给这个国家的舞蹈剧提供了数不尽的故事。作品的图画部分描绘的是英雄和恶魔之间的肉搏战,人物的服装、身姿甚至手势都表现出泰国舞蹈剧的深刻影响。此作的另一个类似版本现存于曼谷国家图书馆的泰国皇家收藏。
《英雄鲁斯坦杀死白魔》,出自《波斯王书》手稿,伊朗或伊朗设拉子,公元1580,纸本上色,25.1 x 20.6厘米。威廉·埃伦费尔德赠,编号2005.64.162。
此作中的鲁斯坦身披虎皮衣,头戴虎头帽,他是伊朗史诗《波斯王书》中一位伟大的英雄。书中的鲁斯坦拥有无比的力量,被魔力所庇佑,象征着波斯的荣誉与品德。这本书由诗人菲尔多西在公元1000年左右创作,叙述了古波斯从诞生直至公元600年转变为伊斯兰国家的历史。由于其文学上的重要性,《波斯王书》在波斯历史上曾多次被改编为绘画。
《个人空间》,Jayasharee Chakravarty(1956-),2001年作品,纸上混合媒材,247.0 x 975.4厘米。在杰伊和玛莎拉·亚达夫的资助下收购,编号f2003.5。
Chakravarty创作了一种梦一样的内心空间,部分为安静的乡村,部分为喧嚣的都市。层层纸张和绳索堆积粘贴在一块,最终形成一幅巨大的卷轴,这幅作品结合了绘画与雕塑。为了使主题和表达方式协调一致,这双面的构成被拉伸卷曲为三维作品,使观众既能在周边观看,也能从作品中穿越。河流一般的街道从房屋和山峦中穿过,有时甚至消隐于无形。假如观众打算用路标,路标上写的却是"自尊",或者"连贯公路"——分别指向含混不清的方向——Chakravarty描绘了现代生存中典型的疏离和困惑。
本文由亚洲艺术博物馆评论家协会成员及前成员共同撰写。他们是韩国艺术部的Kumja Paik Kim和Sung Lim Kim;日本艺术部的Yoko Woodson和Melissa Rinne;中国艺术部的Michael Knight、Li He和 Pauline Yao;喜马拉雅艺术部的Terese Bartholomew;东南亚及南亚艺术部的Forrest McGill、Natasha Reichle和Bindu Gude。摄影师为Kaz Tsuruta。