www.artron.net, October 24 2008
An Interview of Zhu Wei: There must be one thing to stick to.
By Pei Gang
No matter in which era and country and how fantastic are his talent and creative energy, an artist is inseparable from the influence of his context, race, and age. At the same time, the context, race, and age are the source of an artist's creation. Zhu Wei's ink and wash painting works naturally transform the survival status of people, the human nature, and the inheritance of Chinese traditional ink and wash painting into his unique artistic style. During 15 years of his exploration and practice on ink and wash painting, the collective consciousness in the background of times and the tradition of Chinese painting as the mother tongue together constructed the style of Zhu Wei's works.
Only from the perspective of ink and wash painting itself, or drawing itself, in my humble opinion, 'the old hard ink, no less lovely' is the direct sense when I first met Zhu Wei's works. Zhu Wei's painting process is very long and complicated as he said, and finally chap and mottled effect appear. Besides the expression of contemporary quality, his great effort in the ink and wash techniques and modeling that upgrade and develop the ink and wash painting, is another way of performance. The images of green uniform and Chinese tunic suit that often emerge from Zhu Wei's works naturally make viewers think of 'ideology' and 'politics'. But these dramatic conflicted images in Zhu Wei's works are calm and moderate, which is much related to the old paper, the lapping of lines and ink, as well as the careful management of the layout. If the 'old hard ink, no less lovely' is a trace of the Song Dynasty's style, Zhu Wei's figure painting is often seen with strong and generous images, including those metal sculptures with dust and sand made according to these images which give the impression of Han and Tang Dynasties. And the accumulation of these skills and cultivation is converted into the power that can be used to criticize and reflect on today's reality.
The strong sense of contemporary feature and consciousness of times emerging from Zhu Wei's works are an artist's demonstration on living conditions of modern people, and also personal experience of the view of current Chinese culture. Many of his series works such as Eggs Left over by the Red Flag, Utopia, are re-drawn in a way of boneless painting on rice papers which has been processed with antique finishing and make the works show a dramatic alienation effect, meanwhile different landscapes of culture in different times and areas integrated and blended on the same picture, aroused a lot of pondering on history and reality among viewers. On 18 October 2008, in the 'Zhu Wei's Album of Ink Paintings' held in Xin Dong Cheng Space for Contemporary Art in 798 artistic district in Beijing, Zhu Wei showed his typical works of ink and wash, silk net print and sculpture, as well as Zhu Wei's latest series of works—Red Flag—which were exploration of new way for expression. Journalist interviewed Zhu Wei in Xin Dong Cheng Space for Contemporary Art thereupon and Mr. Zhu talked about his creation and contemporary situation of ink and wash painting with his great humor and wisdom.
Pei Gang (hereinafter referred to as P): You have been cooperating with art galleries for more than ten years till today.
Zhu Wei (hereinafter referred to as Z): Yes, from 1993 onwards. I worked on ink and wash painting all along.
P: You have created a lot of artworks already, right?
Z: Yeah, many, I have painted for 15 years.
P: With such a long period of ink and wash art creation, could you separate this 15 years period into several stages?
Z: At the very beginning of creation I did everything, just as today's kids, feel fresh for everything and draw everything. And then I began hope to do only one thing, and later I did not want to say anything but only did an allegorical thing. Just like the recent works like Red Flag. I dare not to do in this way at the beginning of my creation career, now I'm afraid of nothing and acquired inspirations, for example those 'little human figures' in my picture. Relatively speaking, I worked ceaselessly within the tradition range. For example, I imitated the large blank left in photos or pictures. Dare you leave blank as the ancient did? You'll die if you do that. Only non-stop drawing makes sense, and I did everything with depth from the beginning. Later I only did one thing with a specific theme. And now I just create allegorical artworks.
The break through of ink and wash painting should focus on the spirit of the ink and wash art.
P: There are not many works on this exhibition. Are there any new works in them?
Z: Most of them exhibited this time are former works of mine except that Red Flag is new. I painted 7 pieces of works since the end of last year and stopped painting this year. I have already expressed almost all what I want to say. It's not unreasonable but a little bit far from ink and wash art. I meant that it's useless to continue focusing on the mass. We are still guided by red flag, only that there emerged a little bit more housing loans, mortgages, and some more bars. Nothing changed. Another is the change in technique, just as a part of photo has been enlarged. I drew seven or eight pieces of Red Flag series, and I left two for myself which are covered with doodled numbers. You can see them when you come to my studio. Today's reality could well be expressed by those actinomorphic numbers in these two pictures.
P: The number is painted on the red flag.
Z: Yes, and then color it.
P: There is something abstract in them.
Z: There is abstract composition and something contemporary.
P: But you still used ink and wash, Chinese painting pigment.
Z: Yes.
P: The Red Flag series exhibited on this exhibition are a little different from your human figures in the past.
Z: The red flag background as in Utopia and Meeting was separately drawn this time.
P: What has changed in your idea comparing with before?
Z: I want to use ink and wash to express the effect of photos. When it comes to ink and wash, many people are restricted and seem that they cannot do anything. The sculptures on this exhibition were created from the models in my ink and wash painting.
P: In the process of exploration, many experimental ink and wash artworks break away from the basement of ink and wash painting. They actually entered into another system.
Z: Yes To make ink and wash an installation is also a kind of experimental effort, which is more avant-garde.
P: But ink and wash needs break through, so the question is how to break through and how to express?
Z: Innovation in ink-and-wash paintings does not necessarily focus on rice paper. For example, Gu Wenda, who adopted hair and other forms in his artworks, has been always focusing on the spirit of ink-and-wash paintings. In his works, we can find vitality, intelligence, space, and so on. Although he has not used paper, we can still feel a kind of oriental spirit. The same is true for The Living Word: Bird made by Xu Bing, in which the bird is full of the sense of the ink-and-wash painting.
I think that many people are making exploration on the materials of rice paper and ink. In my opinion, they are but materials rather than spirit of ink-and-wash paintings. By studying painting materials, for example, examining the toughness of paper and fastness of the ink, you cannot touch the soul of ink-and-wash paintings, and such deeds should not be considered as exploration. In real exploration, we should retain the essential things.
P: In traditional Chinese painting, ancient painters used techniques such as 'drawing with the middle part of the painting brush' and 'producing 5 colors by altering the thickness of ink' to describe the ingenious uses of brush and ink, with which the atmosphere, interest and charm in the paintings were created. I can find a sense of the woodcut New Year painting in your works.
Z: In the past I have taken the woodcut New Year painting as the subject matter of some of my drawings deliberately. Indeed, the so called 'woodcut' and 'New Year paintings' both belong to ink-and-wash paintings and people have changed their forms just for the convenience of use and circulating. It was impossible for Tang Bohu to draw a painting for each family: he did not have so much time and energy, so people printed some pictures from the original one of him. I mean that the landowners might hold some authentic works, while the common villagers only had printed ones.
P: For instance, people can create woodcuts from the authentic work of Tang Bohu, but the former definitely differs from the latter.
Z: Yes. The modeling and the figure's action will largely remain, but you may feel pictures printed with the engraved plate unsophisticated. Such printed pictures could be passed down and last for many years in this form. I have also adopted such interesting modeling but that cannot make a lasting improvement.
Ink-and-wash paintings should be discussed within a limited scope
P: The ink-and-wash painting in people's impression is black and white, while now the discussion on it has covered much wider scope, including colors, various languages, materials and Japanese painting pigments.
Z: In my opinion, no matter what you are doing you have to make it as it should be. Why? It is easy but meaningless for you to create an 'ink-and-wash' painting without a painting brush and rice paper. I can also draw an ink-and-wash painting on a car or any other places, but I think it should be held within some limits, or it will be too simple and casual. When talking about 'ink-and-wash', even inexperienced people know such paintings are drawn with ink and water, and ink is definitely black. Xu Beihong also wanted to change ink into colored ink, while the works created in this way were far away from traditional ink-and-wash paintings. Therefore, the ink-and-wash painting has its own nature and track. If it was called 'Chinese painting' instead of 'ink-and-wash painting', it would be more impossible for it to meet the changing situation of the world. I think it is difficult for foreigners to make Chinese paintings internationalized because of such a name, and what reason do world-wide people have to deal with Chinese paintings? The same is true for oil paintings: if they were defined as paintings of a certain nation, such as Italian paintings or French paintings, people would not accept them, either. Hence we can only say they are paintings came from western countries, instead of pointing out the exact nation. Therefore the phrase 'ink-and-wash' is fairly important, but it lacks the meaning and sense of 'Chinese paintings': many people consider that ink-and-wash paintings are black and white and are drawn with ink and water.
P: Ancient people could create various spiritual interest that he wanted to express only with paper, painting brushes and ink, which was within a so limited scope. Then what they had devoted more might be something in their interest and thoughts. More materials may bring broader visual experiences, stronger impacts and more other factors, but it will not necessarily draw art nearer to one's spirit and soul.
Z: You are quite right. Oil paintings in China began to develop on a large scale in 1930s or 1940s. However, numerous scrolls, most of which were calligraphic and ink-and-wash painting works, were found in landlords' and magnates' homes during property confiscation. Landowners, workers, peasants and merchants all had the habit of collecting paintings, most of which were national artistic works. Later oil paintings came, which have exerted an impact on ink-and-wash paintings. With the emergence of operas, oil paintings and films, ink-and-wash paintings and Peking operas were treated in the same way by many young peoples.
The contemporary situation of ink-and-wash paintings
P: Then it comes to the question on the effectiveness of ink-and-wash paintings today.
Z: Now ink-and-wash paintings have no effectiveness at all, as Li Xiaoshan has said, but they have not come to the last extremity. Today they are just like a cool dish such as tossed cucumber in sauce, which is only an appetizer and cannot satisfy your appetite…We can chat while eating it, and when other dishes are served we will turn to them. (Laugh)
Talking from my own experience, I think that over the past ten years, the market was not flourished and the ink-and-wash painting did not entirely boom as a kind of contemporary art: it seems that it does not begin to boom until the last five to six years. Ten years ago, all kind of paintings advanced at the same time, and ink-and-wash paintings were developing along with oil paintings, so we could not see their booming. In 2004, people's attention was attracted by Chinese oil paintings and their creators began to shine. Then people had found that ink-and-wash paintings and oil paintings had the same prices and their exhibitions had the same international influence, but why later oil paintings advanced and ink-and-wash paintings fell behind?
Then ink-and-wash painters were as industrious as oil painters. For oil paintings, protective varnish can be sprayed onto them, while that is not applicable to ink-and-wash paintings because rice paper covered with varnish cannot be mounted. That is the feature of materials adopted in ink-and-wash paintings, which is not so favorable. Therefore people say ink-and-wash paintings are difficult to preserve, but I do not think that is true. Indeed, ink-and-wash paintings created in Song Dynasty have survived more than 1000 years and kept good condition, while oil paintings drawn several hundred years ago have cracked badly. With the fact that we can find ink-and-wash paintings created in Song Dynasty and even in dynasties before Song, I think the key does not lie in materials but in cultural value.
P: It is associated with international politics, economy and markets.
Z: Indeed that is a question on whether eastern culture or the western one dominates. Oil paintings came from western countries. Local things in Asia, including Japanese paintings, are facing the same fate. Indeed that is a phenomenon: photography is also in a better situation than contemporary ink-and-wash paintings. Contemporary ink-and-wash paintings are discussed too little now.
Exploration of ink-and-wash painting techniques and practice on contemporary ink-and-wash paintings
P: In your opinion, what is your advantage?
Z: I have made ink-and-wash paintings contemporary. In other words, I have reflected contemporary subjects with ink-and-wash paintings. My first series of works was The Story of Beijing which reflects lives in Beijing and is connected with social reality directly; sometimes it shows a little political flavor, which is really hard for ink-and-wash paintings. I remember in 1993, Wang Lin played a joke on me, 'Your works are just Pop ink-and-wash paintings!' Then I said, 'I don't know what they are'. Even now I still do not know what they are, but what I can confirm is that what I have drawn are certainly ink-and-wash paintings and I have just used them to reflect the realistic society. It is difficult to integrate ink-and-wash paintings with today's social reality. Li Jin's paintings about cakes and ale are also related with social reality; some other painters take the Cultural Revolution as the subject, and we have also seen literati paintings about dreams created by Xu Lei. As we have mentioned, many people are trying to make innovation on rice paper, and many use it to wrap up chairs, stools and other objects for creation. It is rather hard to associate the right angle you have chosen with contemporary subject matter. Ink-and-wash paintings differ from oil paintings in their modeling technique.
P: What is the most difficult thing for you while making breakthrough in painting techniques?
Z: Color. For ink-and-wash paintings, ink is essential, and no matter how you draw at first you should produce the sense of ink. Ink-and-wash paintings should have traces of ink and water, while sometimes that will be forgotten in the process of painting. The technique of combining ink and color is important. For instance, when I draw the transitional places of solid objects with ink, it can only be used to reflect the structure but cannot play a major role. I should make people feel that ink has been adopted properly, but I cannot use it too much: just in a reasonable way.
P: Both ink and lines are forms covering over concepts. If the technique is not well exerted, the concept and spirit of the painting that you wanted to express will be weakened, while the skillful combination of spirit and techniques can produce full expression, satisfying cohesion and the expected effect. Does the key lie in the usage of ink?
Z: Both ink and colors are important. You can see that all of my paintings have been processed with antique finishing, except for Vernal Equinox which was finished recently and drawn on a white background. I have chosen some modern subject matters such as soldiers and troops, and some are even more modern, so if I did not make the paper appear old the sense of the ink-and-wash painting would be lost and someone would say, 'What you've drawn is an American gouache.' Therefore I have to make the paper old and let people feel what is hidden behind the feeling of 'old' are historical sense and something decayed. Only by that can I 'draw' back the sense of ink-and-wash paintings. I must process the piece of paper into old one with a color resembling that of silk kept for a very long time, which is rather complicated and laborious. I have to make a piece of white paper yellow, and then I draw on it. That process has been retained for 15 years by me, and it was not until last year did I begin to draw on a white background.
P: You have painted people in Chinese tunic suit, soldiers and persons showing the whites of their eyes, reflecting something breaking away with the earthliness, just like the feeling expressed by birds watching people drawn by Zhu Da. Does that have something to do with your living background?
Z: I think this kind of feeling is, more or less, shared by all people who are in their 40s now. We are unlike those who in their 50s and who have fully experienced the social situation then themselves. Born in 1966, I was 10 years old then. Seeing the end of the period, I only had vague idea about things having happened. Painters in their 50s who take the Cultural Revolution and Chairman Mao as the subject matter have witnessed the period, while people of our generation are pondering whether the movements then are correct and what their influence on the society later is. It is far-fetched for us to deal with such subject matter because we do not understand them as clearly as the previous generation. We are in the middle of nowhere: people born in the 1970s and 1980s are after us, while those born in the 1950s are before us. We were born in a transitional period and we can hardly understand something clear. I only have an impression of the matters, with which I have created some works.
P: What is the meaning of the whites in the people's eyes you have drawn?
Z: I think that is nothing but a kind of painting technique. I have made the whole painting old and yellow, and black ink has been used, so it would look ugly without shining white. What I have done is required by the picture itself. I can only make the painting arresting by drawing eyes with much white or drawing white clouds. What I want to do is only to make the painting brighter. To accomplish that, a lot of painters reserve some drawing-blank, while I can only do the reverse. Brightness is essential to paintings; I mean it must have some bright color and something arresting.
P: Indeed that is also staged. You have painted some fat people with big heads and short limbs. I think there is a kind of symbol hidden in them. Is that so?
Z: I have spent more than ten years in the army and know the army more than other things. One who has not been a soldier may feel that people in military uniforms are strange, and after he becomes a soldier he will know what the uniform means. Therefore I know soldiers quite well: I even know what they are thinking when they are tired, cold or hungry. For instance, in 1992 and 1993, many young artists drew 'Post 1989' people who were with great joy, while I have no idea about them, because I was in the army then. I do not know why they laughed with so much joy and cannot make any correct comment, either. Therefore I select to draw what is familiar to me, such as people with'big eyes'.
On symbolization in contemporary art
P: Many artists have drawn symbolic things; this has something to do with fast-food culture. For example, such paintings can enter the market and attract people's attention quickly.
Z: I do not think so. In 1993, I was the only person who began to cooperate with Plum Blossoms Gallery, and then painters such as Wang Guangyi, Fang Lijun and Zhang Xiaogang were in cooperation with Hanart T.Z. Gallery; during 1994 and 1995, Yue Minjun and Yang Shaobin began to cooperate with SCHOENI Gallery in Hong Kong: these happened at about the same time, and the painters' purpose was nothing but to find a way out. With commercial purposes, then galleries would call you from time to time, saying you should make a change in what you drew; I was told that painting buyers often said that my paintings always showed the same things and I should change that. However, changes are really difficult to make and they cannot be made at once, so I could not satisfy the gallery then. Besides, I had drained my brain to form an idea, so it was hard to be replaced, and I had no other ideas to replace it; it could not be changed until I had finished the same type of subject matter. Therefore, each time the gallery would say through the fax or phone, 'You should make a change and should not kept drawing the same things,' and I think all painters have witnessed the similar experience. However, I still kept on something, and they just appeared fewer in my paintings; at last they became a kind of symbol. I consider that at first no one wanted to form a brand deliberately, and guess about that is only an overestimate. Indeed, in the past people had no such concept as 'brand', and what we came across was the difficulty to make a change. When we were stuck at somewhere, by no means could we bring out changes, which had made me so restless that I even wanted to slap myself! However, if you made some unnatural changes, then people seeing it would say, 'We will not come to see such ugly paintings next time.' So it is really hard to make changes in paintings.
P: Indeed that was also because you have reached some certain degree and only by drawing like this could you fully express yourself.
Z: That is quite right! You had found a breakthrough point and only after 1 or 2 years you were asked to change it: just like you have written numerous aspects of the world smoothly and suddenly someone asks you to write something else. I thought, 'I cannot make any changes. If my works can't satisfy you, let's cancel the cooperation.' However, then nobody planned to carry out his thoughts, only saying, 'OK.' I hardly expected that one day what I have insisted on will become a kind of brand after years- how strange! Indeed, it is untrue that each painter knew what he will be at the very beginning. It was not until we entered our middle stage in late 1990s and 2000 did some painters begin to deal with and keep on certain subject matter on purpose, but they have never planned to offer convenience for auction in future. No Chinese artists have received the training on art market auction, and they only found their way by accident. It is impossible that one has produced a brand and kept his own style deliberately. Westerner's symbols, such as what Andy Warhol has shown, are totally formed for the market, because such painters are supported by someone. As to contemporary art in China, even critiques and painters do not know what it is. Andy Warhol can get advices from some people, but we cannot. We do not know what to do after the auction. Step by step, we entered galleries and we held biennales and triennials; then what to do next? You will not know that until you have experienced that.
P: During creation, how do you understand the difference between symbolization and stylization?
Z: I think symbolization is somewhat deliberate. In terms of my paintings, they really resemble the life. I have no better ideas so I have to draw like that and add some symbols and style to them. When dealing with some materials, drawing what you want to express, or making up stories, people will differ in their perspectives. For example, seeing two people fighting with each other, you may have an idea which is different from mine. Each person has his own thought, which is by no means deliberate.
P: So you mean that is formed naturally and expressed in a way and language you have been accustomed to, either with lines or colors.
Z: Yes, together with one's own nature. I will draw in a way that is natural to me. For instance, what is shown perfectly in others' paintings may be ruined by me if I also deal with it; even if someone can well imitate my paintings, indeed he cannot reach less than half of my accomplishment.
What I concern more is the expression of spirit and concept
P: Although exploration in techniques needs painstaking efforts, what you want to express more is things in your thoughts and concepts. Indeed, the most moving things are on the spiritual level and the strong concept you have conveyed. In my opinion, during the creation, what you are concerning more is just these things.
Z: Although I draw ink-and-wash paintings with painting brushes and rice paper, I always try to reflect concepts with them, and many of my paintings, including Red Flag series, are conceptual artworks. I always wish to see whether ink-and-wash paintings can show a kind of concept like installations and oil paintings do. The key lies in that whether others will consider what you have reflected is a kind of concept. Besides, for ink-and-wash paintings, what kind of things can be considered as concepts? Many people are just satisfied with their first impression that what I have drawn are ink-and-wash paintings; if I say that my paintings include concepts, photos, and so on, they will still feel there is nothing special in these paintings. If, after some time, China can develop well without any disturbance for 30 or 40 years and culture can be well protected as well as improved, then rich and common people will turn to collect ink-and-wash paintings, because local works are so penetrating for us while foreign ones are rather distant. Unfortunately, generally speaking, now few ink-and-wash paintings are associated with contemporary issues and concepts, so people feel oil paintings are more familiar to them than ink-and-wash paintings. Nowadays people will buy what can fully express the understanding of modern and contemporary matters.
The situation of contemporary ink-and-wash paintings in art markets
Z: There is another problem I am always pondering. Now the price of ink-and-wash paintings is not so good; I think there are two reasons. On one hand, someone may have the misunderstanding, which has something to do with painting materials, that ink-and-wash paintings are hard to last long. On the other hand, there is a great gap between the price of contemporary artworks and traditional ones, which you can see from the auction. For example, Tang Bohu's paintings are sold at 600 thousand yuan or so, while oil paintings created by contemporary young artists are priced at 2 or 3 million yuan. Tang Bohu's paintings, which were drawn 400 or 500 years ago, are so rare, do you think contemporary ink-and-wash painters could be more successful than Tang? By such comparison people can know their price range. Since no oil paintings created before Xu Beihong and Lin Fengmian's period can be found, it is natural that their paintings can be sold at an extremely high price - just because nobody had drawn oil paintings earlier than them did. However, you can find ink-and-wash paintings created in almost every dynasty; even the works of Fan Kuan, an eminent painter in Northern Song Dynasty, are sold at a medium price. I think in the market such things should not be considered right or wrong, because they occur in the commercial field. Besides, academic value of paintings should be discussed in art museums, and their price in galleries and the auction has nothing to do with other factors but the goods themselves. For instance, some works done by artists who have passed away may be sold at a high price: although the painter has been dead, the academic value of his paintings remains, which has nothing to do with whether he is alive or not.
P: That has nothing do to with academy, and one's commercial value is not necessarily equal to his academic value. Now the artistic market in China is nothing like as mad as people expect. It has a process composed of rising, falling and rising again. Accumulation is necessary, and the market will never keep unchanging.
Z: Yes. It is just like we must sway the sifter when screening sand, during which the good and enduring will remain. Rising and falling, which can prove something is true, is necessary, or people's suspense will grow. I think that such rising and falling is not enough and it should happen more; then what have survived can withstand tests: such process should repeat after several years. Now the rising and falling in artistic market can make people objective and calm down, which I think is necessary. The price of my works in the market is usually normal and stable, without serious rising and falling.
P: The sculptures in this exhibition are supplements to what you want to express in ink-and-wash paintings?
Z: They are supplements to ink-and-wash paintings. However, sculptures, oil paintings and other kinds of paintings are all nothing but artistic forms. Objectively speaking, to live as an artist, one must have a lot of time to do his own creation besides a normal life. For me, I have benefited much more from sculpture than from painting. Of cause, ink-and-wash painting is my career. Indeed, they share something in common. Sculptures will remain themselves even in western countries, while westerners' watercolor paintings cannot be exhibited with other kind of paintings. Contemporary art is so diversified, and artists cannot only focus on a single thing, so they deal with installations, videos, performance art as well as oil paintings. Art has been handled by people so we can work on it anyhow, which is fairly good. Now no exhibitions are composed of oil paintings solely, and they must contain videos, photographs or performances such as breathing fire.
P: Just like a bustling show.
Z: Yes. That results from the development of contemporary art as well as the inter-influence between different circles. However, for me, I have to keep on something. I have clung to ink-and-wash paintings for so many years and seen the success coming. However, all the efforts I have paid will be in vain if even a little hesitation occurs: this is what in my mind.
P: Ink-and-wash paintings are your priority while other things are only measures.
Z: I have clung to ink-and-wash painting for more than 20 years, and maybe it will flourish after another 20 years. If I give it up midway, turning to sculpture, oil paintings, and so on, then people will say I deserve the failure. Hence I am clinging to ink-and-wash paintings, wishing it will be prosperous some day and then I will see my accomplishment.
P: I think that the recognition from the market results from the increasingly mature and refined integration of a kind of works, concepts and techniques, and such integration can make your expression more understandable and your concepts and spirit conveyed fully.
Z: I feel that my works, and many other things, are accepted better in foreign markets and countries than in native ones. I do not know why. People in Mainland China, where I am living, know each other very well, but they are more unfamiliar with your works than foreigners, which sometimes make me feel sad. When viewing my paintings, westerners always ask something about the effects shown by the painting. They certainly know what I have drawn are ink-and-wash paintings, because I have made it clear, but they still put out such questions as 'What is shown in your paintings?' However, it seems that my works are coldly received in China.
P: In my opinion, that is caused by the gap in culture. People need to make up the knowledge if they know little about a certain period of history, the history of contemporary concepts and art as well as the history of western art. However, if they cannot do the making-up, then the new artistic works created based on what they lack can hardly cause their recognition and resonance.
Z: But oil paintings are new-created, too.
P: However oil paintings have been accepted by the market. It seems that they are pushed and led by the market. I have read your previous interviews in which you mentioned Van Gogh. Maybe the fact that peoples seeing Van Gogh's personal solo-exhibition are more than those enjoying group exhibitions of other artists can be considered as the victory of the market.
Z: Maybe. Sometimes, for example, when artists have reached some degree, the market should offer attention to native artists and works. Now we always focus on western art. I cannot make any comment here, or I may appear jealous. For instance, someone specializing in art history just knows and loves an artist, and you cannot make any retort even if he criticizes you, or you may be suspected to be jealous. He is studying people's mind: you have to accept what I have written without any objection.
P: Yes, that is where artists' embarrassment lies in: they can only bury their noses in their artistic works. As you have said, they resemble donkeys with blinders on their eyes.
Z: You are quite right. They have to accept other's comments and cannot ask, 'Why is my ranking so low?' or 'Why haven't I included?'
P: As to social recognition and resonance from people, an artist wishes that people would pay attention to his works and discuss them: that, instead of the response from the market, is what they really require.
Z: Anyway, I will benefit a lot if the price of ink-and-wash paintings rises with the prosperity of contemporary art, while ink-and-wash paintings may also be pulled down by poorly developed contemporary art: I can benefit from such association. However, when you are dealing with ink-and-wash paintings, you may always think that why not make ink-and-wash paintings prosperous at first and then oil paintings: that is so ideal. (Laugh)
P: It really has something to do with social accumulation other than a certain kind of paintings or a certain work. As you have mentioned, maybe ink-and-wash paintings will thrive after a period of time.
Z: Yes. When we become the 'earliest', others will remain the 'contemporary' forever, because they just follow what we have started.
The feeling of cooperating with the gallery is just like dating with someone
P: Which do you think is better, the cooperation with only one gallery, or that with several ones?
Z: Of cause the latter is better.
P: Then will that affect your time of creation?
Z: No. If you cooperate with several galleries at the same time, they will compete to gain your admiration; otherwise, if you have been in cooperation with the same gallery for over 10 years, it will become insensitive to you and show great warmness to new-coming artists. That is just like dating with someone. Since 2004 I began to cooperate with several galleries at the same time. Cheng Xindong and Brown are both my friends for many years. I have proposed to cooperate with the former 12 years ago, which comes true now.
雅昌艺术网2008年10月24日专稿
朱伟访谈:总有一件事情是要固守的
文/裴刚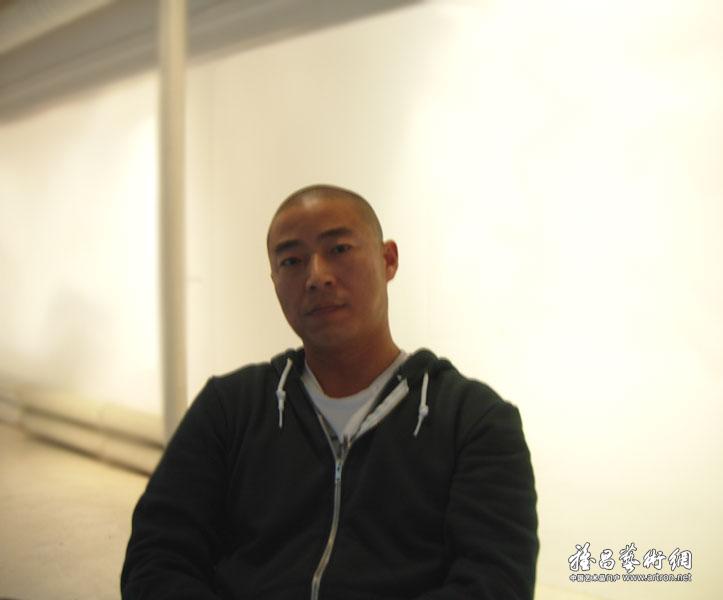 无论哪个时代、国家的艺术家,也无论这个艺术家的才情、创作活力多么的旺盛,都离不开他所处的环境、种族、时代对他的影响。同时环境、种族、时代又是艺术家创作的源泉所在。朱伟的水墨作品自然而然的把今天人们的生存现状、人性以及对中国画传统水墨的继承转化为他独特的艺术风格。在15年间对水墨的探索、实践过程中,潜存于时代背景中的群体意识和作为母语的中国画传统建构了朱伟作品的面貌。   
如果就水墨而水墨,就绘画而绘画,以我对朱伟水墨作品的浅见,"笔墨老硬,无少柔媚"是我初识朱伟作品时的直感。朱伟的绘画过程正像他所说的非常繁琐漫长,最终才出现皴裂、斑驳的效果。对于笔墨技巧和造型的锤炼正是朱伟在表达当代性的同时提升和发展了水墨的另一种表现方式。朱伟作品中经常出现的穿军装、中山装的形象很自然的让观者联想到"意识形态"和"政治",但这些急剧冲突性的形象在朱伟的画面上也显得中正平和、不温不火,与纸张的作旧,线条、墨色的精研,造型布局的悉心经营不无关系。如果说"笔墨老硬,无少柔媚"是对宋人风骨的追慕,而朱伟的人物造型往往又以健硕、宽厚的形象示人,包括由此而制作的那些披尘带沙的金属雕塑又给人以汉唐气度的印象。而这些技艺与修养的沉淀都转化为对今天现实反思和批判的力量。   
朱伟作品所显现出的强烈的当代性和时代意识,是艺术家对今天人的生存状态的关注和对中国文化今日景观的个人体验。朱伟诸多的系列作品《红旗下的蛋》、《乌托邦》等,以没骨画法在做旧了的底子上再作画使作品产生强烈的间离效果,不同时空和不同文化景观并置、融合在同一个画面上。使观者产生对历史与现实的多重思考。在2008年10月18日北京798艺术区程昕东国际当代艺术空间开幕的《朱伟水墨画展》同时展出了朱伟具有代表性的水墨、丝网版画、雕塑作品,同时展出的有朱伟新近创作的《红旗》系列作品,是他对新的表现语言的探索。就此记者在程昕东国际当代艺术空间采访了朱伟。听艺术家幽默、睿智的谈自己创作和水墨的当代境遇。   
十五年水墨创作历程   
裴刚(以下简称裴):您从十多年前就已经开始跟画廊合作了,一直到现在。   
朱伟(以下简称朱):从93年开始。我一直做水墨画。   
裴:作品已经积累了很多吧?   
朱:确实有很多,画了十五年。   
裴:这么长的创作历程,您对十五年的水墨历程梳理一下,能分几个阶段?   
朱:从一开始搞创作的时候,什么都做,就像现在画画的小孩一样,看什么都新鲜,什么都想干。再后来想做一件事,再到后来什么事都不太想说了,只做一个有寓意的东西。就像最近画的《红旗》一类的。开始哪敢啊,现在胆子越来越大了,感觉就有了。就像我画的那几个"小人",感觉就来了。相对来说,在传统的范围之内,自己不停的工作。比如模仿照片或者画面上大量的留白。古人留白你敢吗,你一留白就完蛋。只有不停的画,从一开始什么都往里做。到后来有主题的做一个事。到现在就做一个有寓意的东西。
对水墨画的突破要围绕着水墨画的精神   
裴:您这次展览作品放得并不多,有没有新作品?   
朱:大部分都是以前的,《红旗》是新的。从去年年底到今年画了七张,不画了,已经把要说的话都说的差不多了。不是说不合理了,就是离水墨稍微远了一点。我当时的意思就是,你看乱七八糟的现象没有用,还是在红旗的引导之下,只不过大家多了点房贷、多了点按揭、多了点酒吧什么的,什吗都没有变。再一个就是技术上的改变,就像把一个局部的照片放大一样。《红旗》就画了七、八张。还有两张我没有拿出来,我自己留着呢。上面完全是涂鸦写着数字。你到我工作室就能看到,一种是数字的,再一个是放射状的,一下子把这个事情说出来了。   
裴:数字放在红旗上面。   
朱:对,然后把颜色压在上面。   
裴:有抽象的东西在里面。   
朱:有抽象的构成,有现代的东西。   
裴:但还是用水墨,中国画颜料。   
朱:对。
裴:这次展览的作品《红旗》和原来您画的那些人物的作品不太一样了。   
朱:类似《乌托邦》、《开会》的那些作品后面的红旗背景,我把它独立出来画了。   
裴:您的想法和之前的相比有什么变化?   
朱:我就想用水墨画类似照片的效果。很多人一说水墨画就"局"在那儿了,不能那样……不能这样……这次展览的雕塑就是从水墨画的造型里出来的。   
裴:很多试验水墨的作品在探索的过程中脱离了水墨画的基础。等于是跨到另外一个系统去了。   
朱:对,水墨试验做成装置,也是一种实验性的尝试,更前卫一些。   
裴:但是水墨又需要突破,但是怎么突破,怎么去表达?   
朱:水墨要突破不是说非得拿宣纸做文章。比如谷文达的作品里就算用头发也好…或者其他形式也好,都是围绕着水墨画的精神在做。谷文达的作品中有灵动、有空间等等,里面是没有纸的,但还是有东方精神的那种感觉。包括徐冰后来的《会飞的鸟》,但是那个鸟很有水墨的味道。   
我觉得很多人都是在拿宣纸和墨的材料做文章。我觉得那都是材料,不是水墨的精神。精神的东西你没有做出来,你只是把水墨的材料折腾了一下。看一看纸的韧性怎么样,碎了没有,墨时间长了灰不灰,这个不算探索。探索是要把精神的东西延续下来。   
裴:在中国传统绘画中,古人用中锋运笔、墨分五色等等技巧来表达笔墨的情趣。用笔墨来营造画面气氛和其中的意趣。我在您的绘画里面,看到带有木刻年画的味道。   
朱:以前也刻意的选了一些木刻年画的题材。咱们说传统的木刻和年画,其实是水墨画的一种。只不过在民间为了实用、流传的时候方便。你不能说让唐伯虎每家都去画一个,他也没那功夫。就是画完一张,印一些出来。可能地主家有真的,但村里的都是印的。就是这个意思。   
裴:比如唐伯虎画一张真迹,然后再复制成木版画,但木版画和原作肯定是有差别的。   
朱:有差别。造型基本上是他画的那个动态和造型,但是你通过木版转出去之后就有拙的味道了,再往下传,这个传得年代久远了。我也用过这样的趣味造型,但也不是个长久的事情。   
水墨应该在有限定的范围内来谈   
裴:谈到水墨,人的印象里都是黑白的。但是现在谈到水墨宽泛了很多,比如用色彩,用各种语言,或者是用其它材料,日本画颜料等等。   
朱:我觉得做一件事情的时候,不管做的是什么,应该做什么像什么。为什么?你要不用毛笔,不用宣纸弄出一张水墨,那就没有意义了,这个容易。我也能在汽车上画一幅水墨。随便在哪儿都能画水墨。还是应该在有限定的一个范围来说水墨。没有限制就太容易了。要不然随便拿出一个东西就能做。大家一说到水墨这个词。人家不知道的,就是水和墨,墨肯定是黑的。当年徐悲鸿也想把水墨改成彩墨,那就更远了。所以水墨有自己的特性、自己的轨道,现在都改叫水墨画。如果叫中国画,更没有办法和国际接轨了。我觉得主要是考虑到别人不愿意和你国际化。就是因为你叫中国画。凭什么全世界和你去玩中国画啊!油画你要设定是某一个国家的,比如是意大利画,或者是法国画,大家谁还认啊。只能说是西方传来的,但是没有说是哪一个国家。所以水墨这个词要,但是又少了中国画的味道、意义。很多人想水墨画是黑白的,是水和墨的。   
裴:古人在限制的得非常小的范围内,仅仅是用纸、毛笔、墨,在上面创作各种自己想表达的精神趣味。那么他可能投入更多的是自己的趣味和精神上的东西。材料多了可能视觉上的经验宽泛了,冲击力也强了,各方面的因素都多了。但不见得就离精神、离灵魂更近。   
朱:对。你看油画到中国,大概从三、四十年代中国开始大规模发展的。但以前你看地主老财一抄家都是一卷一卷的,大部分都是字画。连地主,加上工、农、商,大家都是有收藏绘画的习惯,以本土的艺术为主。后来油画出来了,对水墨画有冲击了。一下子来了话剧、来了油画,来了电影,在很多年轻人眼里觉得水墨画、京剧是一个待遇。
水墨画的当代境遇   
裴:就会有一个水墨画在今天的实效性的问题。   
朱:现在的水墨画已经没有什么实效了,真得是应了李小山的那句话了,但是不至于穷途末路,水墨画现在基本上就是一个咸菜,上菜的时候可能就是一个拍黄瓜。你吃这个是吃不饱的,先垫垫……咱先聊聊,菜一来的时候就吃人家的。(笑)   
就我自己的遭遇来看,水墨画前十年,市场没有兴起的时候。没有作为当代艺术整体起来的时候,大概也就这五、六年起来的吧。前十年是八仙过海,大家都往前走,油画也走,我也走。那个时候看不出来。到2004年的时候,就是中国油画出来的时候,就是这帮画油画的人出来的时候,大家出来以后,发现价格一样,展览在国际上的影响力一样。后来怎么就成油画上去了,水墨画下来了?   
那个时候,大家在水墨上使得这个劲不比油画差。油画表面上可以喷保护光油,我这个纸不能喷,喷了没有办法裱,不能有油。这个就是水墨材料的特点,吃了材料的亏。结果人家说水墨画不好保存。为什么水墨画不好保存?其实宋代的画到现在保存的也挺好上千年了,几百年的油画到现在裂得已经很厉害了。可是从宋代甚至再往前的水墨画还有,所以我觉着还不是因为材料的原因。我觉得问题出在文化价值上,不是出在材料上。   
裴:它与国际政治和经济、市场有关系。   
朱:其实是东西方文化以谁为主的问题。油画是从西方传过来的东西。亚洲本土的东西都是这样的,包括日本画。这其实是一个现象,摄影也要比本土的当代水墨的情况好很多。大家对本土的当代水墨讨论的太少。   水墨技巧的探索与当代水墨的实践   
裴:您认为个人的优势在什么地方?   
朱:把水墨画给当代化了,就是水墨画反映当代的题材。我第一批作品是《北京故事》。直接用水墨画反映北京生活,与社会现实直接挂勾的。有时候也稍带点政治,拿水墨画来做是挺费劲的。我记得93年的时候,王林跟我开玩笑说:你这不就是水墨波普嘛!我说,我也不知道是什么,到现在也不知道我这个是什么。但是有一点,我画的肯定就是水墨画。就是拿它反映现实社会。水墨反映今天的社会现实很不好融合。李津画的吃、喝、玩、乐的,也是和社会现实有关系的。还有有画文革的,徐累画梦境的文人画。咱刚才聊好多人在折腾宣纸,还有包椅子、凳子……的很多。找对一个角度,往当代题材上做的很难。水墨画和油画的造型手法不一样。   
裴:技巧方面让您比较难以突破的是什吗?   
朱:色彩。像水墨画首先得有墨,不管怎么画得让人感觉有墨的感觉,水墨画要有水墨的痕迹。有时候画得过程中就忘。怎么把墨和颜色结合。比如用墨画立体的转折,但是墨在里面不能占主导,墨只能起结构上的作用。让大家觉得有墨在,但是又要合理,又不能大面积地用墨。 
裴:墨和线条是浮在观念之上的一个形式。如果这个技巧处理不好,很容易就会把想表达的观念和画面的精神气质弱化了。把精神气质和技巧结合起来,能够表达得很充分,衔接得非常舒服,达到预期的目的。主要是用墨有问题吗?   
朱:一个是墨,再一个就是色彩。你看我所有的画,除了最近画的《开春图》是白底儿的。以前都是做旧。比如我选的题材里面有士兵的题材、军队的题材,这都是很现代的东西,而且有的更现代。完全摩登的那种东西,如果不把纸做旧,水墨的趣味就回不来。趣味就变了。有人会说:你画了一张美国水粉。所以必须做旧了,而且让人感觉"旧"的后边还有历史感,还有腐朽的那一面。才能把水墨的味道重新"拽"回来。就像绢放的时间长了以后的颜色。"做旧"在我的绘画里是很繁琐的一道工序,非常累。必须把白纸做成了旧的,在黄颜色的纸上画画。这一熬熬到十五年过来了。从去年才开始改留白地。   
裴:之前您画穿中山装的人、军人、大白眼。感觉像八大的鸟看人的那种情绪。有一种脱离世俗的东西。这个跟您自己的生活背景有关系吗?   
朱:我觉得这是我们四十多岁的一代人,每个人多少都有的。不像上一代50多岁的人,对当时的社会现状完全亲历了。我是66年的,那时候我才十岁,是似懂非懂的感觉。我赶上得是尾声了。其实50多岁的人画文革、毛题材的,他们经历了那个时期。我们这些人一直琢磨是对是错,对后来的影响。我们自己做这一类题材比较牵强,因为自己没有上一代人明白,正好是前不招村后不招店,后面又是70、80后。上面是50年代,这一代人正好是一个转折的时候,你说什么都说不清楚。我只是大概有一个印象,拿这个事做一些东西。   
裴:您画中人物的白眼有什吗意义?   
朱:我觉得那个白眼纯粹是绘画技巧、技法上的事。整张画里面颜色都做得很旧、很黄,后面又有墨,再没有白的提神的东西,就不好看了。还是画面的需要。只能画一个大白眼来提醒,从远处一看觉得醒目。或者画大白云什么的,就是提个"醒",把画面提起来。很多人以前留白,我只能反过来做。必须得提"醒"。颜色亮一点,有些醒目的东西。   
裴:其实也是阶段性的,您前段时间画的一些大头的胖人,四肢很短小。我感觉有一种符号在里面,是这样吗?   
朱:因为我之前在部队呆了十几年,我画别的东西不了解。没有当过兵的人感觉穿军装的人很奇怪。当了兵就会知道穿着那身衣服是怎吗回事,所以这些人的想法我特别了解。他们困了、冷了、饿了我都很清楚他们在想什吗。比如92、93年,像很多年轻艺术家画的"后89"嘻嘻哈哈的那些人,我不知道,因为那个时候我在军队。没有办法说这个东西,也说不准。他乐,我不知道为什么乐,所以就弄我这种"大眼"的,这些我熟悉的。   
关于当代艺术中的符号化   
裴:很多艺术家画出符号性的东西,跟快餐文化有关系。比如你画一幅画很快就可以进入市场被大家注意。   
朱:没有。93年我开始跟香港的万玉堂画廊合作的时候就我一个人。93年的时候,王广义、方立钧、张晓刚这帮人跟汉雅轩合作的。94、95年的时候,岳敏君、杨少斌开始跟香港SCHOENI画廊合作的,基本上是同时进行的。没有从哪个方面考虑,大家都是为了往外走,就是这么一个原因。从商业的角度,当时画廊还不停地给你打电话,说形象要变一变,别老画一样的。告诉我说:来买画的人老说怎么总是一样的。画廊还劝你变。可是你让我变,我就变成吗?我变不了啊。很不容易想出来的主意,哪那么容易就变啊!哪有那么多主意去变啊!一种类型的题材如果不画完了就变不了的。所以画廊每次发传真、打电话都说:你要变一下形象,不能老一样。我估计给所有的人都发过,我还是死咬着一件事,画得少点而已,最后就形成符号了。我觉得大家一开始没有刻意的要做成品牌,那是高看我们了。以前是没有品牌这些想法的,还是变起来太难了,是卡在那儿了。你再怎么着也变不了,恨不得在家抽自己!你变完了让大家来看。人来了说:要是这样的画儿,那下次我们就不来了。画要改变真的是太难了。   
裴:其实也是自己画到这个程度,唯有这样画才能表达清楚自己想说的东西。   
朱:就是啊!你刚找到了一个突破口,画了一到两年,别人就让你变。就像你写东西,都写得很顺利,写了很多人间百态,结果有人让你改一种方式。我说:我怎么改,干脆你要不愿意,我们就不合作了。但是当时没有一个人有这种打算,都说:OK。没想到多少年以后,这个倒成了符号了,真是见鬼了!其实每个艺术家如果一开始就知道自己要怎么样,那是吹牛。我们到了中期的时候,到了90年代末2000年以后,有的艺术家才开始有意的做某个题材,就是要保持住。但是他们绝对没有想到这个是为了以后拍卖大家好认这个东西。中国的艺术家谁先经过艺术市场拍卖调教过的?都没有。都是误打误撞的进来的。如果谁说:我特意弄了一个品牌,保持自己的风格,那是不可能的事。西方人的符号,像安迪·沃霍尔的东西完全是从市场上考虑的,因为后面有人给他撑着。中国的当代艺术,批评家和画家都不知道当代艺术是怎样的。像安迪·沃霍尔有人给他出主意,但是咱们没有任何人说:我给谁出主意。现在拍卖完了,下一步该怎么走?包括进画廊、进双年展、三年展,一步一步地往下走。那么下一步该怎么办?没有经历过,肯定不知道怎么做。 
裴:符号化和风格化的区别,您在自己的创作当中是怎么理解的?   
朱伟:我觉得符号化有点刻意,单从我的画来说。我的画确实和生活一样,再想不出更好的主意了,就是弄成那样了,略微带点符号。风格,你在这种材料上做,画自己要画的事,包括你编故事的时候,每个人的角度不一样。比如你看两个人打架,你是那么想的。我看那两个人打架,就会有我自己的看法。这是因人而宜的,没有什么刻意的。   
裴:是自然而然的形成的。不管是用线,还是用色彩,都是用自己习惯的语言和自己的方式。   
朱:对,还有自己的习性。怎么画感觉舒服就怎么画。我觉得别人那么画好,但是我拿来一折腾就变了,连别人一半都不到。再比如我这个好,他描得也挺好,但整体上连我的一半水平都不到。  
更关心的还是精神与观念的表达   
裴:虽然说技巧上探索很艰难,但您更想表达的还是您的思想和观念上的东西。其实最打动人的还是精神层面的,还是传达出来的那种强烈的观念。我想,您在创作过程中,更关心的应该是这一部分。   
朱:我虽然是拿着毛笔、宣纸,画水墨画。但是我一直拿这个东西往观念上"描",我的很多画基本上都是做的观念。包括《红旗》还是观念。我一直想看水墨画成不成,能形成观念吗?装置也可以,油画也可以,水墨画能做出观念吗?关键是你做出观念,别人认为你做的是观念吗?觉得水墨画,做成什么样能是观念呢?很多人都是先入为主,一看画的是水墨画就行了。你说:我这里有观念,有照片,有什么......什么的......。别人感觉就是那么回事。就是要到多少年以后,中国再有三四十年别乱,自己的国家搞好了,保护好文化,提升了。那个时候开始地主老财,富农、工农就开始收藏水墨画了。因为你收藏别的,都会隔着点什么。还是自己的东西说得透彻,现在可气的是自己的水墨画,涉及到当代的,涉及到观念的很少,基本没有。所以觉得还是买油画比较亲和,水墨画不亲和。现阶段就是哪个能说清楚对现代、当代的认识,就买哪种东西。  
当代水墨在艺术市场中的境遇   
朱:还有一个问题,我一直在琢磨。像水墨画的价格上不去,一个是因为材料上的事,可能有人误解说水墨画不好保存。还有一个,比如你去拍卖行,当代艺术在这屋,中国书画在那屋。这边卖一百,那边卖二十。比如唐伯虎在那边卖60多万,这边年轻的艺术家的油画卖两百万、三百万。唐伯虎4、5百年前的东西只卖那么多,你说你现在一画水墨画能高过他去吗?两个屋一对比,就知道价格的定位在哪儿。油画推到徐悲鸿、林风眠那一代为止,再往前没有啊,这个就好办了,这些人卖到多少钱都是应该的,因为以前没有。水墨画你推到哪个年代,都有古人在那儿站着呢。范宽的画也在那儿搁着呢,卖的也不是太贵。我觉得拿到市场上就没有对错,因为那是商业领域。要说学术价值应该到美术馆说,要是拿到画廊、拍卖行,多少钱,那是商品的事。就像有的艺术家去世了卖得贵,可是艺术家去世了,他的学术价值没有变啊,这跟他健在不有什么关系。   
裴:这个是跟学术无关的,他的价值不一定就是跟他的学术价值对等。现在中国艺术市场远没有大家想得那么疯狂。有一个过程,会起来也会跌下去。然后再起来,总要有一个沉淀的过程。不可能永远一个状态的。   
朱:对,筛沙子还得左右晃一晃。要是好起来了,坚持住的,好的会留下来,确实要有一个起伏,没有起伏就不行,大家会更怀疑,这说明真实。我觉得还不够,再起来,再起伏,再起来的就会经得住考验。然后过几年还会来一回,然后再起来,再有留下来的。现在艺术市场有起伏,会让人们客观、冷静下来。我觉得应该有这个起伏。我的作品市场价格基本上是正常的,没有大起大落,很平稳。
裴:这次展览的雕塑是在补充水墨想要表达的东西?   
朱:补充水墨画。但是像雕塑、油画,像其它的绘画一样,只是一个艺术形式而已。说句客观地话,作为艺术家,要生存的话,生活上没有问题,还要有大量的时间创作自己的作品。拿我来说,雕塑带给我的好处多得多。当然水墨画这是你要做的事情。实际上都是通的,雕塑拿西方也是雕塑。比如拿西方人的水彩画,水彩画怎么能和别的画一起呢。当代艺术确实太多元化了,所以艺术家只做一件事情能力有限。去做装置,又做VIdeo,再做点行为、画点油画。因为艺术已经驾驭了,所以怎么做都成,这是一个好事。你看现在的展览哪有纯的我就画油画,一定要做录像,或者是摄影,或者在当场喷个火什么的。   
裴:这种感觉像个秀一样,热闹。   
朱:对,因为现在当代艺术的发展,这是行业之间的影响。但是对我来说,总得到有一件事情是我固守的东西。我固守了水墨画这么多年了,眼看着要成了,稍微一哆嗦,最后就前功尽弃了。我现在就这么一个心理。   
裴:水墨画是您的元气,其它的东西是手段。   
朱:我现在也坚持二十多年了,没准儿再过二十年的时候,水墨画的势头上来了,结果那小子半截没有坚持住。到时候一查,这小子是老天有眼,不但做雕塑,还做油画等等,结果没成。我就一直坚持住了,也许水墨画会起来,那个时候我就能赶上了,一直我在做这个事情。   
裴:我觉得市场认可,还是因为在这漫长的创作当中,把这一类作品,或者是观念,还有的技巧揉在一起以后,越来越纯熟,越来越精炼。表达得让别人更容易理解,更能够传达出您的想法和精神的东西。   
朱:我觉得任何东西,包括市场,包括很多东西,我觉得国外比较认可我的多,反而在国内不好,还不如在国外呢。我就不明白这是为什么。同样的东西,在大陆自己这个地方,大家都熟了,结果你还看一个人,他比外国人看你的东西还陌生。有的时候你看着很难受,西方人看你这个会问,这是你做的什么、什么的。他们看我做的效果,他们就问。他也知道你这个是水墨画,一定知道。因为每次我做的时候都强调了,前言什么的都说了。反而在国内很冷漠。   
裴:我觉得这可能是文化断代的造成的,这段历史断掉了,又对当代观念,当代艺术这一段的历史,就是西方美术史也不了解。两块都不了解的时候,就需要补课,但又没有这一段时间补,然后他看到在这个基础上创作出来的新艺术就会没有认同感,很难产生共鸣。   
朱:那么油画也是新的呀。   
裴:但它又被市场接受了,好像市场在催化它,引导它。就像您前面几个访谈我看了一下,有讲梵高的,为什么梵高的个展比其它群展看得人都要多,可能是市场的胜利。   
朱:可能是。市场有的时候,比如大家做到一定的时候,市场应该发挥照顾本土的功能。比如咱们现在老是做别人的东西。从我嘴里也没有办法说,要是说好像我忌妒,我也不好说。就像有人写美术史他就知道这个艺术家,就喜欢这个艺术家。说你不好,你也不能反驳,你反驳就表示你忌妒。他在揣摩人的心理,我怎么写,你们就怎么兜着,还不能挑不能说。
裴:对,因为艺术家的尴尬就在这儿,只能低头做作品。就像您说的:带着眼罩的驴。   
朱:对,然后人家说什么就是什么。你还不能说:我怎么排后面啊。怎么没有我啊,你不能说。   
裴:比如社会认同或者是大家对这件作品产生共鸣,艺术家作出这些作品的时候,还是希望大家一起来关注,共同来探讨这个事儿。不见得非要说是市场如何、如何。这方面的需求还是有的。   
朱:反正当代艺术起来,水墨画的价格也上来了,我也尝到的甜头了。如果当代艺术不好,水墨画可能也一般。这也算是沾了光了。但是你要干这个事,就想为什么不从水墨画开始起了,带着油画一块上,这个多好。(笑)   
裴:还是有社会的积淀问题,不光是一个画种、一件作品。就像您说的,也许过一段水墨真得就登场了。   
朱:对,到了我们成最早的时候。他再搞也是当代了,因为是从那儿起的。   
与画廊的合作就像谈恋爱   
裴:您觉得跟一家画廊合作好,还是跟几家合作好?   
朱:当然多了好。   
裴:那么创作时间会受影响吗?   
朱:不,画廊多了,比着对你好。你要是跟一家画廊合作,合作十几年已经对你没有感觉了,麻木了。他对新的艺术家反而合作得很热乎。跟谈恋爱似的。04年开始不单和一家合作了,开始和几家画廊合作了。程昕东和布朗都是多年的朋友了。与程昕东的合作12年前就说了,现在终于合作了。